Love It or List It Vancouver
Love It or List It Vancouver is a reality style home design show. In Love It or List It Vancouver we meet a family who is unhappy with their home for whatever reasons. The family meets with designer Jillian and real estate agent Todd to discuss what would allow them to stay in their house and what features they would need to purchase a new house. With a budge Jillian and Todd go to work. Jillian redesigns the house and Todd shows them one of their dreams. At the end the family must decide to love it or list it.
Friday 9:00 PM et/pt on HGTV

6 Seasons,

58

Episodes

January 7, 2013

/

10

Cast:

Jillian Harris, Todd Talbot, Kenny Gemmill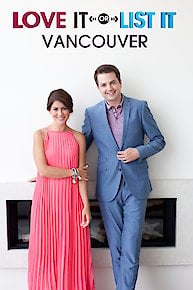 Love It or List It Vancouver Full Episode Guide
Episode

6

-

Happily Ever After Home

Newlyweds skipped the honeymoon to buy a fixer-upper with income potential, but a complicated renovation is starting to turn their initial excitement into buyer's remorse. Still madly in love with their new house, she has hope it can function better with Jillian's touches, but he thinks Todd is the key to their happily ever after.

Episode

5

-

Finding the Right Layout

A couple overlooked a bad layout to buy a bigger home for their family of five; she is more than willing to pack up and find a new home with a functional layout, while he thinks their current home can have it all with some of Jillian's expertise.

Episode

3

-

Charmaine and Cam

A couple has a quaint and cozy cottage with a great location but dated, dysfunctional and downright dangerous elements; he thinks there's a lot to love about the old house and thinks Jillian has what it takes to bring the old gal back up to date.

Episode

2

-

It's Not Easy Living Green

Designer Jillian sets out to create a more open, Zen-like space for an environmentally conscious couple, while Todd finds some creative options that blend form and function with environmental awareness to lure them away.

Episode

1

-

Dysfunction Junction

Fourteen years after buying a small, three-bedroom home under pressure, a couple and their two teenagers have decided it's time for a change; they need something bigger, newer and move-in ready, or turn their home into an organized dream space.
Episode

12

-

Small Home Growing Pains

Stay-at-home Dad Neil has one foot out the door of his impractical house. Sick of no storage and fighting over one bathroom, he wants space. Can Jillian put Neil at ease or will Todd give Randi big reasons to leave her tiny home?

Episode

11

-

Downsizing for Retirement

After living away for ten years, Kelly and Gene don't recognize their neglected home trashed by renters. Jillian thinks an amazing kitchen and spa-like bathroom will do the trick, but Todd tempts with a downsized home and simpler lifestyle.

Episode

10

-

New Home for Newlyweds

Episode

9

-

Growing and Acting Fast

With baby number four due any day, Laila and Dan challenge Jillian with a tight budget, a tighter deadline and a huge reno on a tiny, old house. Todd's mandate is to find space galore, but his cool, modern homes may leave Laila cold.

Episode

8

-

Overhaul or Walk Away

Odd angles and a bad layout give Mark a case of buyer's remorse, but Katie loves their area and pool. Todd must find an epic basement in an upscale home while Jillian faces water issues that could dry up her reno budget.

Episode

7

-

Expanding for Retirement

Jeff is ready to cash out on their home, but Sherri believes it still has life.

Episode

6

-

Remodel or Downsize

Alison and Frank's majestic, oceanfront home is now more burden than blessing. Can Jillian's stunning kitchen and en suite upgrades convince them there is fun in function?

Episode

5

-

Compensating and Compromising

Aleksandra hates her dated, split-level home and long commute, but Vincent thinks they just need a redesign.

Episode

4

-

Starting Fresh

Elana wants to cash out while house prices in their neighborhood are up, but Brian doesn't want to move.