Megan Wants a Millionaire
Megan Wants a Millionaire is a reality show that aired in 2009 on VH1. This show is a spinoff of Rock of Love with Bret Michaels. The show is focusing on Megan Hauserman, the bikini blonde stand out who wants to be a "trophy wife", who is looking for a wealthy love. The show only aired for four episodes due to controversy with one of the contestants and was suspended. One week later August 24,2009 VH1 had canceled the show due to the murder suicide of contestant Ryan Jenkins. Though the show was brief, Megan Wants a Millionaire was overshadowed by the tragedy of Ryan Jenkins, and the public didn't get to give the show a chance.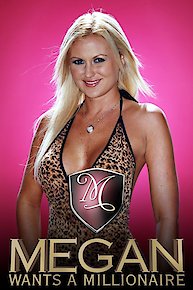 Megan Wants a Millionaire Full Episode Guide
Episode

4

-

Season 1, Episode 4

Episode

3

-

Billion Dollar Doggie

Megan decides to put her millionaires' business skills to the test. She asks them to create business plans designed to make Lily the most marketable and valuable of Chihuahuas. In a house full of confident entrepreneurs, a couple of guys finds themselves in over their heads and must struggle to prove that they deserve to stay in the house. Megan continues to sort out what she wants in a man, and what she doesn't. - via VH1

Episode

2

-

Will You Be My Valentine?

Megan loves gifts, especially thoughtful ones. Watch as she gives the guys a chance to make her Valentines Day extra special!

Episode

1

-

Breaking The Bank

After failing to find love on Rock of Love 2, and then failing to win money on I Love Money, reality TV vixen Megan Hauserman is back and this time she wants it all: a man, and his money. She wants to be the ultimate trophy wife! Seventeen millionaire bachelors from around the country arrive to try and win her heart, but they are quirkier than Megan expected. After an evening of romance, intrigue, and remarkably awkward moments, Megan must say goodbye to three of the millionaires.
Megan Wants a Millionaire News