Milk Street Television
The world of home cooking is undergoing a revolution with new tastes, flavors, techniques and influences. Christopher Kimball's Milk Street Television wants to change how Americans cook by bringing home a fresher, bolder, simpler way of preparing food. Chris and his test cooks search the world over looking for the best recipes, and finding home cooks who can teach better ways to prepare a meal at home. Chris also shares tips and techniques designed to make home cooking easier, like how to make foolproof egg whites and how to season a carbon steel pan. Back in the kitchen, Chris transforms what the Milk Street Television crew has learned into practical, simple recipes for home cooks everywhere.
Saturday 11:00 AM et/pt on PBS

2 Seasons,

29

Episodes

September 9, 2017

/

10

Cast:

Christopher Kimball, Erika Bruce, Lynn Clark, Catherine Smart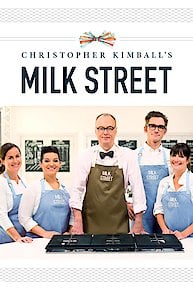 Milk Street Television Full Episode Guide
Episode

20

-

From Vietnam to Burma

Exploring a variety of South East Asian dishes. Includes Vietnamese meatball and watercress soup; coconut cashew cake; and stir-fried chicken with snap peas and basil.

Episode

19

-

Everyday Turkish Favorites

Features Turkish-inspired techniques and flavors, including cooking white beans, how to make the easiest Turkish red lentil soup.

Episode

18

-

South American Classics

Episode

17

-

Chicken the Chinese Way

How to bring Chinese cooking techniques to the home kitchen. Includes preparing crispy Sichuan-chili chicken; and ginger-scallion steamed cod.

Episode

16

-

A Trip to Senegal

A trip to Senegal to learn North African cooking technique with chef and restaurateur Pierre Thiam.

Episode

15

-

Middle East Favorites

The light and bright recipes of the Middle East. Includes salmon chraimeh; bulgur-tomato salad with herbs and pomegranate molasses; and tangerine-almond cake with bay-citrus syrup.

Episode

14

-

The Japanese Quick Cook

Exploring Japan and it's cuisine Includes Japanese-style rice with flaked salmon and shiitake mushrooms; salt-pickled radish and red onion; and yakiudon with pickled ginger.

Episode

13

-

Chicken from Paris to the Middle East

How to elevate simple chicken recipes using techniques and flavors from around the world.

Episode

12

-

Porchetta at Home

The perfect recipes for wintertime meal; fennel-rosemary porchetta; chocolate-hazelnut crostata; and mash potatoes with caraway-mustard butter.

Episode

11

-

South African BBQ

Exploring the various colors, flavors and textures of South African cooking.

Episode

10

-

Taipei Cooking Lesson

The secret to making the flakiest scallion pancakes; and Taiwanese five-spice pork with rice.

Episode

9

-

New Mexico, Old Mexico

How to make a moist and flavorful carne adovada; Mexican chicken soup with tomatillos and hominy; and making a stovetop chocolate cake without an oven.

Episode

8

-

Tunisian Couscous

North African chicken couscous; chickpea and harissa soup; and how to make a harissa.

Episode

7

-

Pizza and Pasta

Features Italian-inspired recipes. Includes roasted mushroom pizza with fontina and scallion; cacio e pepe; and a simple shaved zucchini and herb salad with parmesan.

Episode

6

-

Secrets of Thailand

Transforming a simple bowl of broth and rice into an explosion of flavors. Includes Thai rice soup; Thai stir-fried spinach; and an easy Thai beef salad.

Episode

5

-

Easy French Desserts

French apple cake; rich, yet light chocolate-orange tart; and pastry chef David Lebovitz's recipe for salted butter caramel-chocolate mousse.

Episode

4

-

Japanese Tuesday Nights

Culinary instructor Elizabeth Andoh on how to make skillet glazed chicken; chicken teriyaki rice bowl; and pork and vegetable miso soup.

Episode

3

-

Middle East Classics

The secret of making perfect puffed pita bread at home; how to make sumac-spiced chicken; and how to apply Middle Eastern flavors to salad with a recipe for fattoush.
Episode

11

-

Milk Street Holidays

Milk Street Cook Catherine Smart makes prune, peppercorn and fresh herb-rubbed roast beef.

Episode

10

-

Milk Street Menu

Milk Street Cook Matthew Card shows how to make no-sear lamb or beef and chickpea stew.

Episode

9

-

Not Your Mother's Cake

Catherine Smart shows how to make whipped cream biscuits with macerated strawberries with lime.

Episode

8

-

Simply Spanish

Matthew Card makes garlic soup. Spanish spice-crusted pork tenderloin bites are prepared

Episode

7

-

Milk Street Italian

Italy provides inspiration as Matthew Card shows how to make a fast and fabulous Italian flatbread.

Episode

6

-

Milk Street Suppers

Milk Street Cook Catherine Smart shows Christopher Kimball how to make Georgian chicken soup.

Episode

5

-

Mexico Every Single Day

Milk Street visits Mexico for an insider view on shrimp in chipotle sauce and traditional classics.

Episode

4

-

Tahini Rules!

Milk Street Cook Rayna Jhaveri shows how to make Turkish meatballs with lime-yogurt sauce.

Episode

3

-

From Thailand with Love

Christopher Kimball travels to Chiang Mai, Thailand to get lessons in Thai cooking from Andy Ricker

Episode

2

-

The New Baking

Host Christopher Kimball visits London's Violet Bakery to visit with rising pastry star Claire Ptak.

Episode

1

-

Homecooking, Chinese Style

Christopher Kimball visits Fuchsia Dunlop in London to learn about the Chinese approach to cooking.