My First Sale
My First Sale is a television series that airs weekly on HGTV. On this show, people will not be buying their first house. The roles will be reversed, and instead the homeowners will be selling their homes. This time, the story will be told from the seller's point of view. This show gives its viewers an inside look at what all entails the selling of ones first house. The viewers will be there when the homeowners experience the tears, the frustration, the happiness and the joy, that comes with finalizing ones first sale. In these episodes one will see diverse dilemmas that need to be taken care of before the property is sold.
Homeowners will also encounter problems with selling their homes. The problems that will arise on this show include situations such as, a homeowner who wants to sell her house, but encounters problems when she finds out that her neighbor is also selling their house for $30,000 cheaper than her asking price. Another problem that will be visited, is about a couple who is stuck with two mortgage payments because their first house did not sell. Viewers will see homeowners who make renovations to their home, but then was later viewed as being fruitless. And, a homeowner's nightmare will come to life when they receive an offer for their home, but the deal falls through. These are just a few of the topics that will be aired publicly. When one sells their first place this means that the stakes are even higher than when one purchased the home. Each side will try and get the most out of the deal. The sellers want to double the profit and the buyers want to close on a bargain. The pressure will mount for the homeowners as deadlines arrive, decisive decisions must be made, and thousands of dollars are at steak. The critics and the fans alike rave about this new up and coming show.
Thursdays at 08:30 pm on HGTV

6 Seasons,

91

Episodes

March 18, 2010

/

10

Cast:

David Duffy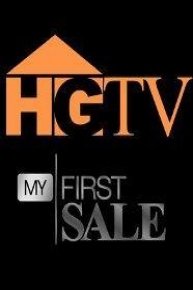 My First Sale Full Episode Guide
Episode

13

-

Big Remodel, Small Results

Teri and Matt are sick of their enormous yard and want to downsize to something that doesn't have them working all weekend. They sink nearly $9,000 into upgrades, which draws in potential buyers but no offers.

Episode

12

-

Dealing With Neighbor's Comp

Thaisa and Jerrold want a bigger house for raising their 3 preschool sons. This Charlotte couple resist lowering their price to be competitive with comps, but they learn that the sellers don't dictate the price, the market does.

Episode

11

-

Pricing Dilemma On Bungalow

Jenna and Steve love their vintage bungalow home in Florida and especially like the beautiful tropical landscaping in the backyard. But with two little girls and active Labrador Retrievers, the home is quickly becoming too small.

Episode

10

-

Getting Closer to Family

A Florida couple gets a last minute wakeup call while trying to sell.

Episode

9

-

Realtor Quits Mid-Sale

Realtor quits after sellers suggest she isn't doing enough to market home.

Episode

8

-

Space for Family Gatherings

A Florida couple wants a larger home to host their extended family.

Episode

6

-

Selling With Seven Dogs

Selling isn't easy with seven dogs in the house.

Episode

5

-

The Power of Staging

Staging makes all the difference for a Charlotte home that wouldn't sell.

Episode

4

-

A Backyard for Ryan

Kelly's a single mom who feels she needs a backyard for her son Ryan. After listing, she finds the would-be-buyers want a yard, too. So, she drops the price, but before any offers, she meets a man who could change everything.

Episode

3

-

Fear Factor On 29th Floor

With a fiance afraid of heights, Mike must sell his high-rise bachelor pad.

Episode

2

-

Buy First, Sell Home Later

Couple faces double mortgages when they buy before selling the first place.

Episode

1

-

Family Friendly House Hunt

Couple hires best friend to be their realtor and sell golf course home.
Episode

13

-

Appraisal Threatens Sale

Low appraisal threatens a sale week before a couple's wedding.

Episode

12

-

Two Realtors, Same Advice

A Charlotte couple fires one realtor and gets same advice from a new one.

Episode

11

-

Selling to Avoid Daycare

First-time sellers want to keep twins out of daycare.

Episode

10

-

Selling to Get More Room

Vivian and Arturo love Miami Beach but need a family-friendly home.

Episode

9

-

Too Much Road Noise

Single mom, Kate, fights road noise to sell her house.

Episode

8

-

Living Apart to Sell Condo

A new job means a couple must live apart to sell their condo.

Episode

7

-

Desperate for Family Time

A long commute and a baby on the way prompt a Texas couple to sell.

Episode

6

-

Long Wait Pays Off

A long wait pays off for a Florida couple after they get a strange request.

Episode

5

-

First Sale by Owner

Disappointed by their realtor, first-time sellers go for sale by owner.

Episode

4

-

Weighty Decisions

Lowball offers threaten to derail a Texan's plan to sell.

Episode

3

-

Desperate to Cut Commute

A Charlotte family is desperate to cut the commute into work and school.

Episode

2

-

Too Close to the City

A Texas couple wants to sell their house and move to the country. Jennifer and Ronnie dream of life out on the open range in Texas. But their plan hits a snag when they learn the house Ronnie custom built has some major flaws in the eyes of buyers.

Episode

1

-

Too Stressed to Sell

A couple juggles twins and trying to sell in a tough Dallas market.
If You Like My First Sale, Then Try...