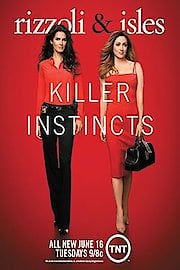 Watch Rizzoli & Isles
TV-14
2010
7 Seasons
Rizzoli & Isles is an American crime drama television series that premiered on TNT on July 12, 2010. The series is based on characters created by Tess Gerritsen in her bestselling Rizzoli & Isles crime novel series. The show follows the investigations of homicide detective Jane Rizzoli, played by Angie Harmon, and medical examiner Dr. Maura Isles, played by Sasha Alexander. The two women are close friends who work together to solve some of Boston's most gruesome and challenging cases.
Rizzoli is a tough and determined cop who has a tendency to blur the lines between her personal and professional life. Despite her prickly exterior, she is deeply compassionate and protective of those she loves, including her younger brother Frankie, played by Jordan Bridges, who is also a detective in the Boston Police Department. Isles, on the other hand, is a brilliant and eccentric medical examiner who has a keen eye for detail and a knack for uncovering clues that others might miss. She is elegant and refined, with a passion for fashion and a deep love of literature.
Throughout the series, Rizzoli and Isles confront a wide range of crimes, from gruesome murders to complex conspiracies. They are often aided in their investigations by a number of supporting characters, including Rizzoli's partner, Vince Korsak, played by Bruce McGill, and Isles' adoptive mother, Angela Rizzoli, played by Lorraine Bracco. Other notable recurring characters include FBI agent Gabriel Dean, played by Billy Burke, and mobster Paddy Doyle, played by Chazz Palminteri.
Despite its dark subject matter, Rizzoli & Isles is known for its witty banter and comedic moments. The dynamic between Harmon and Alexander's characters is a central part of the show's success, with their friendship providing a welcome counterbalance to the often intense and unsettling crimes they investigate. The show's humor is also frequently provided by Bridges' Frankie, whose affable personality and goofy sense of humor make him a fan favorite.
Over the course of its seven-season run, Rizzoli & Isles developed a dedicated fan base and earned critical acclaim for its engaging characters, strong writing, and clever mix of drama and humor. The show came to a close on September 5, 2016, with a heartwarming finale that left fans satisfied and emotional.
In conclusion, Rizzoli & Isles is a thrilling crime drama with a unique blend of humor and heart. The show's standout performances from Harmon, Alexander, and Bridges make it a must-watch for fans of police procedurals and buddy comedies alike. Whether you're tuning in for the high-stakes investigations or the witty banter between Rizzoli and Isles, this show is sure to keep you entertained from beginning to end.
Rizzoli & Isles is a series that is currently running and has 7 seasons (106 episodes). The series first aired on July 12, 2010.