Save My Son
Save My Son is an emotional reality television series premiering on TV One. This reality television series is hosted by a famous educator by the name of Dr. Steve Perry. In this show, Dr. Steve Perry tries to get involved in the lives of young men who are quickly at the risk of becoming another statistic. These boys or young men are at risk of becoming a statistic because of the criminal activities or criminal behaviors that they are participating in, which will either land them in prison or will have them winding up dead. Usually the families of these young men are single mothers who are trying to raise their sons without a father figure in their lives.
In this show, Dr. Perry and some of his carefully chosen mentors like Steve Harvey, Halen Rose, Derek Anderson, Pooch Hall, and Ruben Studdard, introduce these children to us viewers, as well as introduce their families and describe what exactly is going on in their life and the activities that they have done to bring Dr. Perry to them. He also talks with and shows the parents or parental guardians, exactly what they are doing wrong that is actually harming the child and aiding in their behavior. Plus, he will take these young men and show them where they will end up if they continue down the path they are on, and how it will affect them and they people that they love.
Furthermore, Dr. Perry and these mentors will uncover the reasons why these young men have chosen to participate in these criminal acts and work hard to offer them and their families all the things they need in order to get these young men on the right track in life. During these tasks Dr. Perry also looks for positive talents that these boys have and tries to put them to good use in order to help keep them focused on a better life.
Save my son is a heartwarming and heartbreaking show that shows you the trials and tribulations that many families face in the world today. You will see how certain young men can go from good, loving, caring, and responsible boys to trouble making, reckless, and misguided souls as they begin to enter into their teen years.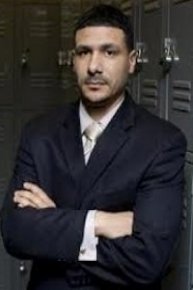 Save My Son Full Episode Guide
Dr. Steve Perry tries to help a troubled teen make good decisions for his future.

Dr. Steve Perry tries to help Diron make good decisions.

Dr. Steve Perry tries to help CJ make good decisions.

Malik is fourteen-years-old and headed down the wrong path.

Dr. Steve Perry tries to help Justin make good decisions.

Dr. Steve Perry tries to help Tylar make good decisions regarding his drug use, stealing, and abusing women.

Dr. Steve Perry tries to help Bub make good decisions in a gang-infested area.

In the series premiere, Dr. Steve Perry attempts to educate 17-year-old CJ about making better choices.