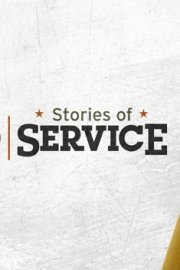 Watch Stories of Service
Stories of Service is a documentary series produced by PBS that explores the experiences of veterans and their families. The show aims to honor the service and sacrifice of men and women in the armed forces and to increase public understanding of their experiences.
The series features interviews with veterans from different conflicts and time periods, ranging from World War II to the present day. Viewers hear firsthand accounts of combat, wartime trauma, and the challenges of transitioning back to civilian life. The veterans also share stories of resilience, finding support, and making positive contributions to their communities.
In addition to the veterans, their families and loved ones are also featured in the series. Viewers see how their experiences, sacrifices, and support have contributed to the veterans' well-being and recovery. The show highlights the importance of community and family connections in helping veterans cope with the challenges of military service.
Each episode of Stories of Service delves into a particular theme or issue related to military service. For example, one episode explores the experiences of women who have served in combat roles, while another focuses on the challenges faced by veterans dealing with PTSD. The series also looks at the diverse backgrounds and perspectives of veterans, highlighting the stories of LGBTQ, immigrant, and Native American veterans.
Throughout the series, viewers see how veterans have found ways to continue serving their country and communities after leaving the military. Many have become advocates for veteran's rights and services, while others have pursued careers in public service or started businesses that employ other veterans. Their stories serve as inspiration for viewers to get involved and support veterans in their own communities.
Stories of Service also includes archival footage and photographs that give viewers a sense of the historical context of the conflicts and time periods covered in the series. The show provides valuable insights into the experiences of veterans who have often been marginalized or overlooked in mainstream narratives of war and military service.
Overall, Stories of Service is a thoughtful and compassionate portrayal of the experiences of veterans and their families. The series provides a platform for their voices to be heard and their contributions to be recognized. By sharing their stories, the show aims to deepen public understanding of the impact of military service and to encourage support for veterans in their communities.
Stories of Service is a series that is currently running and has 1 seasons (5 episodes). The series first aired on May 27, 2014.