The Click List: Best in Short Film
This series takes a look at the short films that were released. The viewer will get to see the basic story line to these films. The host of the show will review what made the film good and why the viewer should watch it.
1 Season,

21

Episodes

March 13, 2007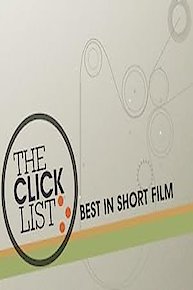 The Click List: Best in Short Film Full Episode Guide
Episode

10

-

Dani and Alice / Last Exit

Dani and Alice - In the last 5 hours of their relationship, Dani and Alice prepare to leave their favorite girl bar. When Alice's actions in the bar are brought up, the conversation ends with tragic results. Last Exit - On a visit to her conservative hometown in Nevada, Cody is confronted with her first love and reminded that an old flame can still burn you.

Episode

9

-

Daddy's Boy / Airplanes

Daddy's Boy - Win Stafford is in for a shock when his attempts to hide his sexuality from his father result in a hilarious outcome. Airplanes - Two teenaged girls hook up at a carnival, but when evening falls, their tentative friendship threatens to dissolve.

Episode

7

-

Triple Minority / The Piper

Triple Minority - Triple Minority is about a gay black woman named Clair Collins who wants to reconcile her relationship with her religious parents without compromising her identity. She is ostracized from her family, her church, and her neighborhood. She finds love with Rebecca Laws, a woman who helps Clair find the strength to face her parents. The Piper - Based on the classic tale of the Pied Piper, this short film is a modern day lesbian fairytale set in beautiful Saltaire, United Kingdom.

Episode

6

-

Rugburn / Cairo Calling

Rugburn - A painter works up the courage to contact the collections agency that has been hounding him and gets embroiled in a more personal confrontation than he bargained for. Soon he learns that some things hurt worse than they should. Cairo Calling - Ahmed is in for the shock of his life when his mother calls from Cairo to announce her imminent visit to Montreal. He convinces his entourage to play along for the duration of her stay, telling them that the visit is a short one, but Mother has other plans. She is a woman on a mission and is ready to stay for as long as it takes for her to see it through. In fact, she has an open ticket! Ahmed's patience will be severely tested as his mother tries to bring her old world values into their lives, but she too will get tested when she realizes the true meaning of the old saying, be careful what you wish for, it may just come true." "

Episode

4

-

Available Men / The Underminer

Episode

3

-

Unspoken / Coif
Episode

10

-

Little Black Boot / Fly Cherry

Little Black Boot - Stars Jane Lynch. With an insightful and boy-sterous poke at the Cinderella legend, tomboy Cindy's secret crush on the most popular girl in the school receives a boost when her fairy god-brother transforms her into the beau of the prom. Fly Cherry - A young girl dreams of flying to get away from her neglectful mother and forms a bond with her mysterious next door neighbor.

Episode

9

-

Intent / Stuck

Intent - In this concise murder hunt, a well-connected policewoman embarks on a personal crusade when the voyeuristic serial killer of lesbian couples, Eugene Burrows, enters her realm of influence. In search of evidence, she grows closer to the D.A. on the case. Stuck - An elderly lesbian couple prepare to set out to go to a friends house to play bridge. After an argument over a dessert they get in the van and continue to argue about the speed of driving. But an encounter with a girl dressed as a butterfly will change their relationship for good.

Sarang Song is a love story of two women set amidst the politically and socially turbulent times of the early 1970s. The couple's love is tested when one is thrust into the student protest movement and is forced to make a choice -- will she choose her love, or will she choose the movement?

Episode

4

-

Promtroversy / Chicken Night

Promtroversy - Starring Jane Lynch. It's prom season again in Sherman Valley, Ohio, prelude to the biggest night on the town's social calendar. But this year, something's different. Cassie Stephenson, the local high school's only know lesbian student, will be attending prom and wants to run for prom king. Everyone in town has an opinion to share in this mockumentary treatment of the historic event. Chicken Night - A little girl narrates her experience with cooking with her single and very pregnant mother during a typical afternoon.

Episode

3

-

Hitchcocked / Straight Boys

Hitchcocked - Al and Fred discover that online hookups can be lots of fun... until somebody gets hurt. Though brief, this hot, casual-sex encounter stirs up some surprising truths about Internet-dating, love, life... and death. Straight Boys - Ben isn't indecisive. He knows what he wants... he just never goes after it. He thinks he's found true love in his college roommate Morgan, who just happens to be straight. Ben's rich fantasy life allows him to have a close relationship with Morgan without having to confront how he feels. But as their friendship becomes more and more complicated, Ben finds that being honest with Morgan may be the straightest path to happiness, regardless of the outcome.

Episode

2

-

Brooklyn's Bridge to Jordan

Episode

1

-

Sissy Frenchfry

The annual student body president election at the wildly eclectic and diverse West Beach High School pits the quirky, much-beloved incumbent Sissy Frenchfry against a handsome, charismatic and socially intolerant transfer student with a devious plan to restore the status quo.