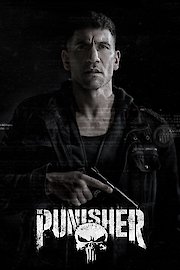 Watch The Punisher
TV-MA
2017
2 Seasons
The Punisher is an American television series that is based on the Marvel Comics character of the same name. Initially released on Netflix, it is now available to stream on Disney+. Created by Steve Lightfoot and starring Jon Bernthal, Amber Rose Revah, and Ben Barnes, the show received critical acclaim for its gritty portrayal of the titular character.
Set in the Marvel Cinematic Universe, the show follows Frank Castle (Bernthal), a former Marine who becomes a vigilante after his family is murdered by a criminal organization. Castle operates under the alias of the Punisher, using his military training and experience to target and eliminate the people responsible for his family's death.
The first season of The Punisher begins with Castle living a quiet life under a new identity, but he is soon drawn back into his violent past when he discovers a conspiracy involving government agents and illegal weapons. Along the way, he encounters several allies and enemies, including Micro (Ebon Moss-Bachrach), an NSA analyst who helps him uncover the conspiracy; Dinah Madani (Revah), a Homeland Security agent who is investigating the same conspiracy; and Billy Russo (Barnes), Castle's former friend and fellow Marine who has become a successful businessman with ties to the criminal underworld.
Throughout the season, Castle engages in brutal fights and gun battles with various criminals, including bikers, gang members, and mercenaries. He also struggles with his own demons, haunted by memories of his family and the trauma he experienced as a Marine. Despite his violent methods, Castle remains a sympathetic character, driven by a desire for justice and a willingness to sacrifice himself for others.
The second season of The Punisher sees Castle continuing his crusade against crime, this time in a new location: New York City. After helping a young girl named Amy (Giorgia Whigham) who is being chased by a mercenary group, Castle finds himself caught up in a conflict between rival criminal factions. Along the way, he teams up with a bartender named Beth (Alexa Davalos) and encounters his old foe Russo, who has undergone a significant transformation since their last encounter.
As in the first season, the second season of The Punisher features intense action scenes and themes of violence, trauma, and redemption. Castle's mission takes him to the edge of his sanity as he confronts his own mortality and the morality of his actions. The show also explores the themes of brotherhood and betrayal, as Castle and Russo confront their shared past and the choices that led them down different paths.
Overall, The Punisher is a gritty and intense show that offers a unique take on the superhero genre. While it may not appeal to all audiences, those who appreciate action, drama, and complex characters will find much to enjoy in this series. With strong performances from its cast, especially Jon Bernthal as the titular character, The Punisher is a must-watch for fans of the Marvel Comics universe.
The Punisher is a series that is currently running and has 2 seasons (26 episodes). The series first aired on November 17, 2017.