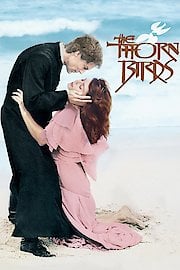 Watch The Thorn Birds
Unrated
1983
2 Seasons
The Thorn Birds is a breathtaking television show that tells the story of an Australian family named the Clearys, during the early 20th century. The series is based on a novel of the same name penned by Colleen McCullough in 1977. It focuses on Meggie Cleary, the oldest daughter in the family, who falls in love with Ralph de Bricassart, a handsome and ambitious Catholic priest who comes to the outback parish where her family lives.
Rachel Ward was outstanding as Meggie Cleary, a young woman with a fierce sense of loyalty and compassion for those she cares about. As the series progresses, Meggie goes through a variety of life-altering events that challenge her beliefs and change her worldview. Ward's portrayal of Meggie is captivating and deeply moving, and it's impossible not to root for her as she navigates the highs and lows of her life.
Richard Chamberlain was equally impressive as Ralph de Bricassart, a man of great faith who is torn between his love for Meggie and his commitment to the church. Chamberlain imbued Ralph with a quiet intensity that made him both captivating and complex. He skillfully portrayed the inner conflict that Ralph experiences, making the audience understand the difficult choices he must make.
The show was very well-written, with excellent dialogue and character development. The performances by the entire cast were top-notch, and the stunning cinematography and beautiful score added to the show's overall appeal. The setting of the Australian outback gave the series a unique and intriguing backdrop, and the attention to detail in the costumes and sets contributed to the authentic atmosphere of the time period.
What sets The Thorn Birds apart is its ability to keep the audience invested in the characters' lives for the entire length of the series. As each episode unfolds, the viewer becomes more and more invested in Meggie and Ralph's story, and the emotional payoff at the end is truly remarkable. It's a testament to the exceptional writing and acting that the show has endured for so long and continues to capture the hearts of viewers today.
In conclusion, The Thorn Birds is a classic television series that has stood the test of time. Rachel Ward and Richard Chamberlain brought their A-game to their roles, and the result was a phenomenal portrayal of a timeless love story. The show remains a beloved classic that resonates with audiences of all ages.
The Thorn Birds is a series that is currently running and has 2 seasons (6 episodes). The series first aired on March 27, 1983.