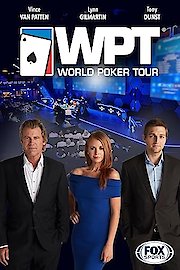 Watch World Poker Tour
TV-14
2003
7 Seasons
World Poker Tour is a television show that premiered on the Game Show Network (GSN) in 2003. The show revolves around the game of poker and follows the journey of professional poker players competing against each other in various tournaments around the world. The show is hosted by the charismatic Courtney Friel, who takes viewers on a journey through the world of professional poker and the high stakes battles that take place at each event.
The show's format is similar to other poker shows, but what really sets it apart is the quality of the production and the level of excitement generated by each episode. Each show features some of the biggest names in professional poker, such as Howard Lederer, Chris Ferguson, and Daniel Negreanu, competing against one another in a series of high stakes games. The show is known for its fast pace and the quick wit of its players, who often engage in lively banter and trash talk.
One of the most unique aspects of World Poker Tour is the fact that it is shot on location at various venues around the world. This not only adds to the excitement and visual appeal of the show but also helps to showcase the different cultures and settings where the tournaments take place. Viewers are treated to a behind-the-scenes look at some of the world's most beautiful and exotic locations as they watch the players battle it out for the big prize.
Another standout feature of the show is the commentary provided by poker experts Mike Sexton and Vince Van Patten. These two bring years of experience and knowledge to the table, providing valuable insight into the strategies, techniques, and mindset of the players. Their commentary adds a layer of depth to the show, helping viewers to better understand the game and appreciate the skills of the players.
World Poker Tour is not just a show for poker enthusiasts, however. It's also a great introduction to the world of professional poker for anyone who is curious about the game. Even those who have never played the game before will find the show engaging and informative, thanks to the expert commentary provided by Sexton and Van Patten.
Overall, World Poker Tour is a high-quality television show that has stood the test of time. It continues to captivate audiences around the world with its exciting gameplay, dynamic commentary, and engaging personalities. Whether you're a professional poker player or just a casual viewer, this show is definitely worth checking out.