World's Greenest Homes
"World's Greenest Homes" (2008) is a documentary series about houses that were designed and built to be very eco-friendly. The houses use renewable energy like solar or wind power. Some are built out of recycled materials. Some have gardens growing on their roofs. One or two are underground. Ed Begley is the host.
Saturday 6:00 PM et/pt on Planet Green on HGTV

2 Seasons,

39

Episodes

June 13, 2008

/

10

Cast:

Emmanuel Belliveau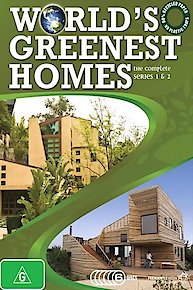 World's Greenest Homes Full Episode Guide
Go to Toronto, New Zealand, and Chile with World's Greenest Homes.

Episode

12

-

Permaculture

World's Greenest homes goes to Sonoma County, Australia, and Austin, TX.

World's Greenest homes goes to Chicago, Santa Monica, and Austin, TX.

Episode

10

-

Krikorian House

Discover some of the Greenest Homes from the Sonoran Desert to Boulder, CO.

From Australia to Texas, discover some of the World's Greenest Homes.

Travel from England to Japan for green living.

Travel from Lake Erie, Seattle, to Scottsdale, AZ for green living.

Episode

6

-

Eco Deep House

Visit Minnesota, Hollywood, and Chicago.

World's Greenest Homes visit Germany, New Zealand, and finally stop in the Swiss Alps.

Episode

4

-

Hillcrest House

Visit an ultra-modern, minimalist masterpiece in Manchester... A tiny, hip Hong Kong apartment that redefines space-saving design... And, a green California prefab that was customized to perfection.

Episode

3

-

Arts & Crafts

World's Greenest Homes visits New York, Seattle, and Toronto.

World's Greenest Homes travels to Minneapolis, MN where a 1,800 square foot home in the suburbs features the owners' own dumpster finds, a reclaimed gymnasium floor, huge picture windows, and a durable, future-proof design.Next, it's off to Boulder, CO where a three-bedroom, 2,900 square foot home is built from eco-friendly materials, and features a noise-proofing concrete wall, soaring ceilings and windows, open concept living areas, bright design flourishes, and an indoor fish pond.Finally, in Dusseldorf, Germany, nestled in the picturesque countryside, is an open concept green dream home that features outstanding minimalist design, solar panels and passive solar heat, as well as a dramatic floating staircase, a spa-like bathroom, a fish-filled reflecting pool, and dramatic views from the home's large windows and second-story bridge.

World's Greenest Homes travels to New York to view a spectacular upstate retreat nestled on 28 wooded acres that features a green dome home with floor-to-ceiling windows, gourmet kitchen, and a spaceship-like exterior that rotates to make the most of the sun's rays.Then, it's off to Tunquen, Chile to see a family home with gracious, modern interiors, huge windows, and sprawling decks on three levels. This luxurious home is completely off the grid and offers breathtaking views of the ocean below. It took only six hours for this traditional-looking pre-fab home to be assembled in one of the most sought-after areas in the city.
Manny visits a Chicago home named 'Kickapoo' after the native-American tribe. Then, just ten minutes from Sydney harbor, two architects created their ultimate tree house without harming a single tree.

Episode

25

-

McKinley Residence

World's Greenest Homes visits a California beach house with a unique family-friendly design that makes the most of an ocean breeze.Host Emmanuel Belliveau tour a home nestled in the hills of Greece that combines contemporary design with natural and eco friendly features.

This award-winning, 4,000-square foot energy efficient home in Houston, Texas has loads of personality and plenty of green features, too. Beyond the solar panels, recycled denim insulation, and heat resistant extra-thick concrete walls, the home features sprawling multi-purpose living areas, and an indoor slide that offers a quick alternative to the stairs.Full of personal decorative touches and overlooking a glacial lake in Rollins, Montana, this 2,400-square foot home is embedded in a steep slope to take advantage of the Earth's thermal benefits. The green home also features local and salvaged materials with Amish-built kitchen cabinets, a spectacular green roof, and an interior wall that looks like ancient ruins.

A 3,400 square foot super home blends in with the landscape and features innovative recycled products throughout, then a pair of fashion designers built their dream-home with some inventive green touches.

Located just beneath the 'H' in the Hollywood sign, Manny visits a glamorous L.A. home that is as healthy as it is sustainable. Then, romance novelist Stephanie Laurens creates her own off-grid Aussie hideaway 40 minutes north of Melbourne.

Episode

21

-

Chicago House

Faced with a derelict 3000 square foot warehouse, a Chicago couple transforms it into a luxurious home, filled with unique green technology. Preserving 90 percent of the building's original brick shell, they installed solar panels, wind turbines, and an ingenious underground cooling system drilled into the bedrock. The sprawling home also features a lush central courtyard, a greenhouse, and a living roof.Two hours North of Sydney, this family's modern retreat proves you can live in complete comfort - completely off the grid. The home's unique green features include natural ventilation and a cinderblock fireplace that retains heat for hours. The home also features sweeping valley views, and a unique sprinkler system to protect it from the area's common bush fires.

Episode

20

-

Inside-out House

Manny visits a mechanical engineer and inventor who has designed his unique home as a series of hexagonal pods to blend into the foothills of the Sonoran Desert. Then, just outside Amsterdam, an architect built his family a slim-line, energy-saving home.

Episode

19

-

Solar Umbrella

In Venice Beach, a pair of architects have remodeled their 1920's bungalow into a sleek, green home. Then, an old London milk depot transformed into an energy saving, showcase home.

A Houston architect transformed a derelict downtown site into a block of sumptuous green townhomes, and created a cool, slick and sustainable neighborhood in the process. Then a 680-acre holiday home outside Melbourne, Australia named after a whisky.

Episode

16

-

Arroyo House

A former punk rocker lives off the grid in a solar powered castle and a Toronto couple bring nature inside their ultra modern, clean and green living space.

Episode

15

-

Casa de Carmen

Only ten minutes from the White House in Washington, D.C, green pioneer and architect, Travis Price, cantilevered his four-storey steel and glass dream home over a cliff so it barely touches the forest below. Then, a green oasis in Baja, Mexico.

In the heart of Silicon Valley, this 3,000 square foot Palo Alto home blends industrial chic with modern comfort. Perfectly oriented to capture sunlight, the home's green design includes passive solar energy and solar panels that generate 80 % of the home's needs. The home also features recycled newspaper insulation, reclaimed and renewable woods and non-toxic plaster walls.Nestled on a spectacular five-acre site on British Columbia's Lake Okanagan, this 3,500 square foot home is designed to blend in with its pristine surroundings. Built into the side of a hill, the super-insulated, energy efficient structure is loaded with recycled and reclaimed materials. The homes many creature comforts include radiant floors, 18-foot ceilings, and a breathtaking views from the outdoor deck.

Located in a reclaimed industrial site transformed into a green residential neighborhood, a grand home in Atlanta combines Southern charm with eco-friendly living. Then, an energy-efficient home proves it's possible to be green while going green.

An hour North of NYC, and overlooking a lake and manicured grounds, Manny fisits a two-storey, octagonal-shaped, energy-efficient super home. Then, perched high in the mountains of Oregon, a pioneering green home is cantilevered above the ground.

A couple in Toronto, Canada transformed an abandoned, bunker-like industrial warehouse into a green family sanctuary right in the heart of the city. Designed as a home and studio, the dwelling features open-concept,multi-functional spaces and furniture. Green features inlcude smart ventilation, radiant concrete floors, and a courtyard that doubles as an outdoor living room.Nestled on 40-acres in New York's Catskill Mountains, this wedge-shaped, ultra modern chalet is made of natural, renewable, and recycled materials. Designed to capture light naturally, the compact 1,800 square foot home features a wall of insulated, translucent windows. It also boasts a panoramic deck, two-sided radiant fireplace, and a geothermal system for heating and cooling.

Manny takes a trip to Alys Beach in the Florida Panhandle, where two architects became the first residents of their eco-friendly, Mediterranean-style village. Next, nestled on the shores of Lake Okanagan,BC, an award-winning, Asian-inspired super home.

Situated in an exclusive conservation area and golf resort outside Seattle, Washington, this award-winning, 3,000 square foot home features superior insulation and eco-friendly finishes throughout. Built to blend in with its natural surroundings, the home boasts a two-story lounge, a bronze kitchen sink, a recycled copper bathtub, and a computerized central control system.In just 18 months, this traditional 1940's bungalow outside Minneapolis was transformed into an award winning, super-green, energy-saving home. Called the "Sustainable House," it's loaded with almost every green feature imaginable, including low-flow fixtures, a closed combustion gas fireplace, triple-glazed argon-filled windows, geothermal wells for heating and cooling, and huge underground cisterns for storing rainwater.

Manny visits the home of Ted Turner's daughter and her family, a brand new, sprawling Tudor mansion in Atlanta that is one of the largest eco-homes in the US. Next, since zoning laws prevented them from building up, a family in England went underground!

Emmanuel travels north of San Francisco, and a mile from the closest utility pole, to visit an unusual green home in the shape of a hawk. Next, just minutes from Sydney Harbor, a turn-of-the-century cottage was redesigned with an open-air living space.

Using local materials, a couple in Southern Ontario built their off-grid home on 65 acres of rolling hills without sacrificing any creature comforts. Beyond the exposed beams and country-chic interiors, the sprawling home features solar thermal tubes, a wind turbine and a swimming pool made from recycled car tires.Next, nestled in the woods outside St. Paul, Minnesota, this grand geodesic dome home can withstand earthquakes, hurricane winds, and tons of snow. Using 60 percent less material than a conventional house, the robust and energy-efficient home features gracious open-plan interiors with 18 inch thick walls, reclaimed wood and non-toxic materials throughout.

Manny visits a home outside Austin, where an architect used local materials to design an innovative, energy-efficient home for his family. Then, only a half hour from central London a fairytale home in the English countryside is completely biodegradable!

Emmanuel visits a cliffside Toronto home that pushes green to the extreme. Then, a Chicago couple with a punk rock label transformed a turn-of-the-century tavern into the greenest live-work space in the city.

Episode

3

-

Accordion House

Manny heads to Austin, Texas where one couple took an already green dream home and remodeled it to create a luxurious green oasis with a breathtaking view. Designed to stay cool naturally, the home features local limestone walls, recycled paper insulation, a heat-reflecting metal roof, and rolling aluminum shutters to help keep out the midday heat.Then, in northern Sweden, two architects designed a very unusual off the grid house in one of the country's nature reserves. It's called Accordion House because it expands accordion-style over a stream and folds up into itself during the cold weather. It's cutting edge design and open concept all the way'with reindeer pelts lining the walls and a giant bathtub on the deck!

Host Emmanuel Belliveau visits a stunning and lavish home in San Francisco's Mission District that is a study in how to take wind power to a new level in the city.Then, Emmanuel finds himself in West Sussex where there is an untraditional home built around trees.

Just outside of Aspen, Colorado, where the rich and famous come to play, Host Emmanuel Belliveau visits a 7-thousand square foot home with a small carbon footprint.World's Greenest Homes takes a tour of a home in a Boston suburb made from the scraps and leftovers from an old interstate freeway.
If You Like World's Greenest Homes, Then Try...