Watch WWE Tough Enough
WWE Tough Enough is a reality television show that pits 13 contestants who are all competing to earn a contract to be the next new WWE professional wrestling superstar. Much like other talent show set ups the contestants face different challenges from week to week and are eliminated by a panel of judges that include WWE Superstars such as Al Snow, Jacqueline and Tazz. The competitors are also visited weekly by other WWE stars who are sent to mentor them and give them some in-ring training.
6 Seasons,

69

Episodes

June 21, 2001

/

10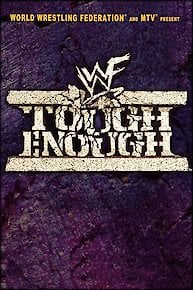 WWE Tough Enough Full Episode Guide
Season
6
164 clips available
Episode

10

-

A Champion Is Crowned

The viewers get the chance to vote for the ultimate WWE superstar and Diva.

Episode

9

-

Friend or Foe?

Friendships are on the line as only a few remain. Who can prove they have the discipline to make it to the end?

Episode

8

-

There's No I in Team

The six remaining competitors learn there's strength in numbers.

Episode

7

-

Spinning a Yarn

A challenge gives one competitor a story worth sharing.

Episode

6

-

Remember to Be the Best

The competitors must focus or it's a long way down to the bottom 3.

Episode

5

-

Swallow Your Pride, It's Good for You

After combating some difficult competitors, the participants are left feeling humbled.

After becoming the butt of a joke, the competitors need to talk their way out of things.

The competitors find out about having quality character.

Episode

2

-

Swamp Stories

The contestants are put to the test as they find themselves in some troubled waters.

Episode

1

-

Boot Camp or Bust

In the sixth season premiere, Chris Jericho hosts as a new group of WWE hopefuls are introduced and compete to become the next Superstar and Diva. Judges include Hulk Hogan, Daniel Bryan and Paige.
Episode

10

-

Season 5 Winner is announced

Live Season Finale - Starring Ricky "The Dragon" Steamboat.

A shocking elimination; Guest starring The Miz.

Guest stars The Rock and James Roday.

Episode

6

-

It's Getting Down to Nut Cuttin' Time

Guest star John Morrison helps the contestants with focus. Injuries, motivation and determination begin to play a big part in the contest. Who gets cut?

Episode

5

-

Don't Take My Kindness for Weakness

Guest starring Rey Mysterio and John Salley.

Episode

4

-

110 Pound Elephant in the Room

Guest starring Hall of Famer - Bret "Hitman" Hart.

Episode

3

-

Bad Day, Real Bad Day

Guest starring The Big Show.

Episode

2

-

Five for Flinching

Guest starring John Cena.

Episode

1

-

Get Your Teeth Out Of My Ring - The 1...

The beginning of the first new season in years, we meet the contestants and trainers, and someone goes home.