Yeh Meri Family
In this comedy series, a 12-year-old Indian boy and his family cope with the ups and downs of life in the late 1990s. The series debuted in 2018 on the TVFPlay and YouTube platforms and later on Netflix. Vishesh Bansal, Mona Singh, and Akarsh Khurana star in the series. It was created by Saurabh Khanna.
Friday at 10:00 AM et/pt on YouTube

1 Season,

7

Episodes

July 13, 2018

/

10

Cast:

Mona Singh, Vishesh Bansal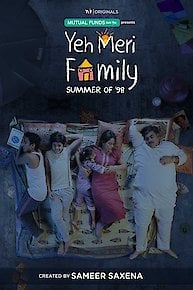 Yeh Meri Family Full Episode Guide
No matter how much we fight with our siblings, how much we hit them, we can't stay away from them. Similar is the story of Harshu and his brother Dabbu. What will happen if Dabbu will leave the family home to study futher?

Episode

6

-

Chupan Chupai

Harshu never gives up an opportunity to try to impress his crush Vidhya. His best friend Shanky gives him new tips and tricks to grab her attention, but this time Harshu has his own plans. What are they?

When the parents have an intense fight, the entire house is on high alert. While Harshu and Dabbu try to calm things down, the adorable little sister, Chitti goes missing. Where did Chitti go and what happens next?

The dreaded day of results in school is here, but Harshu isn't worried about the report card. What's bothering him is his Papa coming to school for the open day. Will Harshu's friends think his Papa is cool?

Birthday is one day that gets every 12-year old excited and Harshu is no different. Harshu and Shanky have big plans for Harshu's birthday, but mom has a sweet surprise planned for him. Will Harshu be patient or petulant, wait and find out!

Welcome to the home of the Guptas, in the summer of '98. Meet Harshu, our 12-year old, naughty but nice hero. He has a strict but caring mother, a cool father who is the engine of the family, a nerdy elder brother and an adorable baby sister, the apple of everyone's eyes. All Harshu wants is all any 12-year-old does, to play and have fun with his best friend Shanky during the summer vacations, but mom has different plans for him.