Watch A Place in the Sun
A place in the Sun is a British T.V program that is stylized in the fashion of international retail purchasing, and the trial and error process that many couples go through when trying to purchase their first home internationally. It was produced in the year 2002, and still to this day airs on British daytime television.
The shows plot is the same throughout the entire series; young British couples are looking for the opportunity to purchase a house in an international real estate deal. Though the show often uses Southern Europe as the destination that the couple is looking for, recent seasons have been broadening the horizon and showing couples that are looking for houses across the entire world, and not confined to the Southern Europe demography. To locations as broad as Croatia, Canada, and Australia.
The premise of the show is well rounded enough that even couples that aren't looking for a home can enjoy it; it has a lasting effect on families that want to witness the everyday culture and environment of exotic locations.
Throughout the years of production, A Place in the Sun has been nominated and received many rewards for its thought provoking and tell-all style of reporting. The show has been accredited with teaching first time buyers about national exchange rates, national currency and the process that makes buying a vacation home in another nation adventurous.
Due to the numbers of viewers and success of the show it is predicted to meet the mark of its tenth season. Both the producer and the broadcaster of the show comment that they will continue to broadcast the show as long as people show an interest in the topic that are covered within the program.
Shockingly when the show was first introduced it was assumed to be replaced after a single season. The shows purpose was to bring popular real estate shows from America and Canada to Britain. However no follow up program the premise of this show has held the same amount of success so the producer decided to keep the program running as is.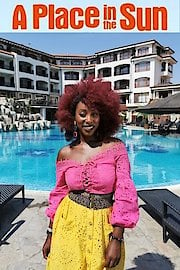 A Place in the Sun

Full Episode Guide
Episode 30 - Series 36 Episode 30

Episode 29 - Series 36 Episode 29

Episode 28 - Garden Route, South Africa

Globetrotting and glamorous, there's only one place for today's house hunter Alma Scholes, and that's South Africa's garden route.

Episode 27 - The Winelands, South Africa

Helen and Geoff Molyneaux from Suffolk dream of a retreat among the breathtaking beauty of South Africa's wine region.

Episode 25 - Wild Coast, South Africa

Episode 24 - Western Crete

Episode 23 - Eastern Crete

Episode 19 - Var, Provence

Episode 16 - South Burgundy

Episode 11 - Morbihan, Brittany

Episode 2 - Costa de la Luz
Episode 39 - A Place In The Sun

Episode 38 - A Place In The Sun

Episode 37 - A Place In The Sun

Episode 36 - A Place In The Sun

Episode 35 - A Place In The Sun

Episode 34 - A Place In The Sun

Episode 33 - A Place In The Sun

Episode 32 - A Place In The Sun

Episode 31 - A Place In The Sun

Episode 30 - A Place In The Sun

Episode 29 - A Place In The Sun

Episode 28 - A Place In The Sun

Episode 27 - A Place In The Sun

Episode 26 - A Place In The Sun

Episode 25 - A Place In The Sun

Episode 24 - A Place In The Sun

Episode 23 - A Place In The Sun

Episode 22 - A Place In The Sun

Episode 21 - A Place In The Sun

Episode 20 - A Place In The Sun

Episode 19 - A Place In The Sun

Episode 18 - A Place In The Sun

Episode 17 - A Place In The Sun

Episode 16 - A Place In The Sun

Episode 15 - A Place In The Sun

Episode 14 - A Place In The Sun

Episode 13 - A Place In The Sun

Episode 12 - A Place In The Sun

Episode 11 - A Place In The Sun

Episode 10 - A Place In The Sun

Episode 9 - A Place In The Sun

Episode 8 - A Place In The Sun

Episode 7 - A Place In The Sun

Episode 6 - A Place In The Sun

Episode 5 - A Place In The Sun

Episode 4 - A Place In The Sun

Episode 3 - A Place In The Sun

Episode 2 - A Place In The Sun

Episode 1 - A Place In The Sun