Watch Anytime with Bob Kushell
Anytime with Bob Kushell is a five minute talk show, which uses the format of late night television talk shows in its shortened format. The show was created by writers Bob Kushell and Russell Arch during the 2008 Writers Guild of America strike, Kushell takes the on camera duties and Arch directs the episodes.
Following a number of online videos created during downtime from their writing jobs during the 2008 strike, Kushell and Arch filmed two pilots for a five minute talk show. Sony Pictures Television commissioned 26 episodes of Anytime with Bob Kushell over two seasons; the episodes were aired on Sony's online channel Crackle and were filmed in a garage in California to extend the low budget look of the show.
A condensed version of a late night talk show Anytime with Bob Kushell replaces the traditional opening monologue with a single joke. A prerecorded segment usually takes the form of an a trip or recorded item from the life of Kushell, which is followed by a celebrity interview. Prerecorded segments include a trip to the beach with Kushell and his son, and the band deals with flu. Despite the limited time available on the show Anytime with Bob Kushell includes a house band that includes the writer Rob Rappaport.
Bob Kushell is a television comedy writer for popular U.S. sitcoms including The Simpsons and Anger Management. Russell Arch is an animator, writer and director who has created shows for U.S. cable networks VH1 and Comedy Central.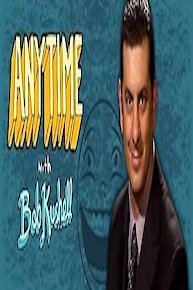 Anytime with Bob Kushell

Full Episode Guide
Episode

12

-

Mary Lynn Rajskub

This Week: Mary Lynn Rajskub (24, Flgiht of the Conchords, The Larry Sander's Show) plays guess my breast size with Bob and venture into the exciting world of city planning. Plus, Bob presents his brand new iPhone app.

This week: Alex Trebek (Jeopardy, Charlie's Angels) searches for his missing mustache and discovers its' secret name. Plus, Bob finds out about the band's secret hobbies.

Episode

10

-

Jerry O'Connell

This week: Jerry O'Connell (Stand by Me, Jerry Maguire, Samantha Who) gives the seceret to Rebecca Romijn's heart and tells where to get your children, kinapping, and murder fast. Plus, Bob speaks with the head of the North American Zombie Institute

This Week: Hank Azaria (Year One, The Simpsons, Night at the Museum) gives you Simpsons trivia. Find out where the Simpsons voices of Comic Book Guy, Snake, and Moe come from. Plus, Bob stars in his first homosexual musical.

Episode

8

-

Anytime with Bob Kushell feat. Greg B...

Episode

6

-

Patrick Warburton

Episode

3

-

Bryan Cranston
Episode

26

-

Nadine Velazquez

Episode

21

-

Jerry O'Connell

Episode

13

-

Jerry Springer

Episode

11

-

Nicole Sullivan

Episode

6

-

Christina Applegate

Episode

3

-

Neil Patrick Harris

Episode

2

-

Jennifer Esposito
If You Like Anytime with Bob Kushell, Then Try...