Watch Austin & Ally
It's often said that life imitates art (or vice-versa), and perhaps that's never been more perfectly illustrated than in the Disney Channel's teen sitcom, Austin & Ally. Created by the writing/producing team of Kevin Kopelow and Heath Seifert, Austin & Ally revolves around the unorthodox relationship between two teenagers who, at first glance, appear to be polar opposites. How they deal with and use their differences to form a prolific musical team is both inspiring and entertaining.
Ally Dawson (Laura Marano) is a slightly withdrawn, extremely talented songwriter who prefers to toil in the background and let others bask in the spotlight. Ally is actually a gifted singer/performer, but her innate shyness and lack of self-confidence prevents her from "stepping out front," and performing publicly. When a song she's written is made into an Internet video by Austin (Ross Lynch) and becomes a sensation, both his and Ally's lives change dramatically.
Austin is everything that Ally isn't; outgoing, outspoken and determined to become a star. The unlikely pair discover their differences complement each other perfectly, and along with their respective best friends Trish (Raini Rodriguez) and Dez
(Calum Worthy), they set out to make their mark in the music video universe.
In early episodes, Ally continues to struggle with her reticence and stage fright, but with some behind-the-scenes maneuvering by Austin, finds herself onstage, accompanying Austin on piano. The end result isn't favorable, but the experience helps to solidify the two, and they learn to trust each other.
Ensuing episodes of Austin & Ally find the duo not only increasing their output, but also dealing with the trappings of stardom. When a far-from-flattering video of Austin shows up on an Internet blog, the resulting controversy not only leads to the cancellation of an upcoming gig, but also forces the group to reassess their strategy. An appearance at the Internet Music Awards severely tests the group's friendship, and in perhaps the ultimate test of loyalty, Austin is faced with a dilemma when a noted manager attempts to woo him into a contract. Despite visions of superstardom and promises of unimagined riches, Austin chooses to remain with his friends.
Obviously targeted for the 'tween and teen demographic, Austin & Ally nonetheless is a well-written and well-performed production. The chemistry between cast members appears genuine, and the original music featured is much better than expected. Kopelow and Seifert cut their teeth on other Disney productions such as Sonny With a Chance and Jonas, but they've already shown that they are capable of taking the typical Disney format to a new level.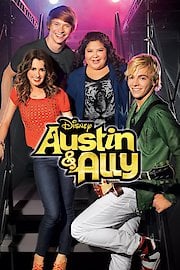 Watch Episodes
News
Clips & Extras
Austin & Ally

Full Episode Guide
Season 4
(15 full episodes)
Episode 6 - Duos & Deceptions

A code inspector comes to look at the music school and threatens to shut it down, and the foursome learns the famous duo have ulterior motives.

Episode 5 - Homework & Hidden Talents

Ally wants to prove to Austin that she can unlock the hidden musical talent of a new student. Trish enlists Dez to help her make a video for a book report.

Episode 4 - Seniors & Senors

Austin discovers he's a credit short for graduation, throwing off his plans for his senior year.

Episode 3 - Grand Openings & Great Expectations

The gang is on a time crunch to teach first-time music students how to play in a band in preparation for the A&A Music Factory's grand opening.

Episode 2 - Mattress Stores & Music Factories

Episode 1 - Buzzcuts & Beginnings
Season 3
(47 full episodes, 3 clips available)
Episode 22 - Relationships & Red Carpets

Episode 21 - Records & Wrecking Balls

Episode 20 - Horror Stories and Halloween Scares

Episode 19 - Beauties & Bullies

Episode 18 - Videos & Villains

Episode 17 - Last Dances & Last Chances

Episode 16 - Proms & Promises

Episode 15 - Eggs & Extraterrestrials

Episode 14 - Fanatics & Favors

Episode 13 - Austin's New Crush

Episode 12 - Ally's New Crush

Episode 11 - Directors & Divas

Episode 10 - Critics & Confidence

Episode 9 - Cupids & Cuties

Episode 8 - Princesses & Prizes

Episode 7 - Austin & Alias

Episode 6 - Glee Clubs & Glory

Episode 5 - Mix-Ups & Mistletoes

Episode 4 - Beach Clubs & BFFs

Episode 3 - Presidents & Problems

Episode 2 - What Ifs & Where's Austin

Episode 1 - Road Trips & Reunions
Season 2
(52 full episodes, 10 clips available)
Season 1
(38 full episodes)
Austin & Ally Video Clips & Extras