Watch Baby Daddy
Baby Daddy is a new comedy that has come to television this year. It is broadcasted on ABC Family and appropriate for kids of all ages. The story line of this show reminds many of the older show 3 men and a baby. This show is about a guy named Ben who is young and very irresponsible. He lives in an apartment with his best friend and brother. They are all obsessed with partying and finding new women. Ben has a very overbearing mother who loves to give him a hard time all the time. He also has a friend named Riley who has had a crush on him since they were kids. One day he wakes up and there is a baby on his porch. He then realizes that it is his baby and has to take care of it since the mother of his child dropped it on his doorstep. At first he is very irresponsible but he eventually over time realizes that he has to be the best father he can be for his daughter Emma.
Throughout the series it shows you the obstacles of a single man trying to live a normal life and still be a father. He has tons of help throughout the show but something seems to always go wrong. This is a great comedy that many have started watching and will continue to watch. If you are looking for a family friendly show to watch then this might be the show for you!
Watch Full Episodes of Baby Daddy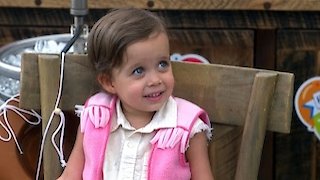 Season 5 Episode 20
My Fair Emma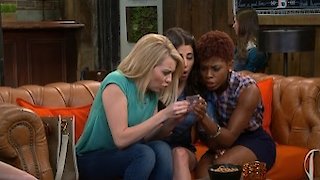 Season 5 Episode 19
Condom Conundrum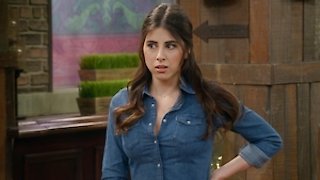 Season 5 Episode 18
She Said, Ben Said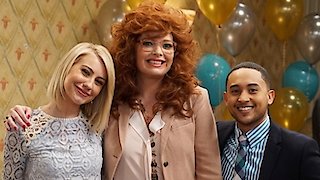 Season 5 Episode 17
The Love Seat
Season 5 Episode 16
Double Date Double D...
Season 5 Episode 15
Unholy Matrimony

Watch Episodes
News
Clips & Extras
Baby Daddy

Full Episode Guide
Season
5
20 full episodes, 87 clips available
Episode

20

-

My Fair Emma

Ben forgets Emma's birthday and tries to combine her birthday party with a beer stand at the neighborhood street fair, but it doesn't go exactly as he imagined.

Episode

19

-

Condom Conundrum

The guys are afraid their girlfriends could be pregnant after Emma ruins Ben's stash of condoms, and the ladies pretend to show signs of pregnancy to force the guys into confessing the truth.

Episode

18

-

She Said, Ben Said

When Ben's first date with his new lover gets off to a rocky start, Danny and Riley intervene to help sort out the couple's issues, but their efforts quickly cause more harm than good.

Episode

17

-

The Love Seat

Episode

16

-

Double Date Double Down

Ben and Riley are in over their heads in their respective relationships. Together they hatch a plan to execute their break ups.

Episode

15

-

Unholy Matrimony

Ben pretends to be Bonnie's husband, Brad, to prove to her friends she has an attractive, younger lover. When Danny begins dating a beautiful actress as a publicity stunt, Riley tries to make him jealous.

Episode

14

-

Not So Great Grandma

Bonnie is upset when Ben invites her estranged mother to a family weekend at Emma's preschool. Meanwhile, Riley and Tucker take an improv class to supplement their careers.

Episode

13

-

High School Diplomacy

Ben reveals he never graduated from high school and decides go back to set the standard for Emma.

Episode

12

-

Ben-semination

Ben discovers Tucker has been making money on the side - donating sperm.

Episode

11

-

Trial By Liar

Episode

10

-

Homecoming And Going

Ben questions his feelings for Sam and Zoey after Sam invites him, Riley and Danny to the Hamptons. Riley finds some old home movies of the group's high school days.

When Sam reveals she may have to quit her job because she's tire of the commute, Ben comes up with a master plan to keep her close to work.

Episode

7

-

The Return of the Mommy

Now starring on a popular television series, Emma's mom, Angela, shows up unexpectedly to visit her. Initially, Ben is hesitant, but when Angela claims she can help get Emma into a good preschool, Ben allows it, but asks Riley to keep an eye on them.

Episode

6

-

Never Ben Jealous

When Danny discovers Ben is still Riley's emergency contact, he discounts Ben and Riley's relationship. So, when Ben attempts to prove that his and Riley's relationship meant something, the situation becomes awkward for Riley and Danny.

Episode

5

-

The Dating Game

When Tucker finds Zoey snooping around his apartment, he jumps to conclusions and decides to ask her out. However, Zoey believes Tucker is setting her up with Ben.

Episode

4

-

The Tuck Stops Here

Ben thinks Tucker needs to stand up for himself to his boss Mary Hart, so he films her berating him to prove his mistreatment. But when Emma accidentally uploads the video online, the video goes viral.

Episode

2

-

Reinventing the Wheeler

When Emma starts calling every woman she sees "Mommy," Ben decides he needs to settle down.

Episode

1

-

Love And Carriage

In the fifth season premiere, Riley faints after Danny asks her to marry him and has no recollection of the proposal when she wakes up. In an effort to move on, Ben decides to find "his Riley" and immediately hits it off with new neighbor Zoey.
Season
4
22 full episodes, 14 clips available
Episode

22

-

It's a Nice Day for a Wheeler Wedding

After Bonnie's wedding planner quits, Charlotte steps in, but what is her motive? Ben decides to let Danny and Riley have a chance at romantic happiness.

Episode

21

-

What Happens In Vegas

The friends head to Las Vegas, where one of Tucker's secrets is revealed.

Episode

20

-

Till Dress Do Us Part

The gang fails to safeguard a cherished item of Bonnie's.

Episode

19

-

Ring Around the Party

Riley plans a party to meet Ross' friends. Danny tries to dig up more information about his new girlfriend.

Episode

18

-

Parental Guidance

Ben tries to figure out who would be responsible enough to assume custody of Emma if something were to happen to him.

Ben is determined to corrupt Riley's boyfriend. Bonnie wants in on the boys' poker game.

Episode

16

-

Lowering the Bars

Riley has to represent Tucker in a lawsuit. Bonnie is doubtful the boys will be be able to run the bar.

Episode

15

-

One Night Stand Off

Ben and Riley's pasts are back to haunt them. Danny makes an investment in the future.

Episode

14

-

It Takes a Village Idiot

Ben is determined to look after Emma all on his own. Bonnie and Danny become rivals in the kitchen.

Episode

13

-

Home is Where the Wheeler Is

After her disastrous confession to Danny, Riley runs away to her parents' house.

Episode

12

-

A Love/Fate Relationship

Riley is feeling the pressure to tell Danny she has feelings for him before it's too late.

Episode

11

-

You Give Real Estate A Bad Name

Bonnie takes on her ex-boyfriend for the right to sell Jon Bon Jovi's New York penthouse.

Episode

10

-

Happy Birthday Two You

A family secret could ruin Bonnie's birthday.

Episode

9

-

An Officer and a Gentle Ben

Ben and Tucker are recruited by the Navy.

Episode

8

-

House of Cards

Tucker's past comes back to haunt him. Riley abuses her privileges.

Episode

7

-

The Mother of All Dates

Ben and Danny make bets on their mom's love life.

Episode

6

-

Over My Dead Bonnie

The boys team up with Bonnie to trick her tenant out of his apartment lease.

Episode

5

-

Mugging for the Camera

When Riley saves Ben from a mugging, they tell their story on Mary Hart's program.

Episode

4

-

I See Crazy People

Danny seeks help from an unexpected source.

Episode

3

-

She Loves Me, She Loves Me Note

Riley reveals she knows Danny's true feelings.

Episode

2

-

It's A Wonderful Emma

Grumpy Ben's wish eradicates the Christmas holiday, as well as Emma's existence.

Episode

1

-

Strip or Treat

Ben, Danny and Tucker get into trouble with the law when their plans to attend a big Halloween party go awry.
Season
3
21 full episodes
Season
2
16 full episodes
Season
1
10 full episodes, 1 clip available
If You Like Baby Daddy, Then Try...
Most Popular Baby Daddy Episodes
Season 5 Episode 20

My Fair Emma

8/03/2016

Season 5 Episode 16

Double Date Double Down

7/06/2016

Season 1 Episode 1

Pilot

6/20/2012

Season 2 Episode 16

Emma's First Christmas

12/11/2013

Season 5 Episode 1

Love And Carriage

2/03/2016
Baby Daddy Video Clips & Extras
My Fair Emma
Preview
Condom Conundrum
Preview
She Said, Ben Said
Preview
Double Date Double Down
Preview
Unholy Matrimony
Preview
Not So Great Grandma
Preview
High School Diplomacy
Preview
Ben-semination
Preview