Watch Brandy & Mr. Whiskers
Series Length:
2 Seasons,

39

Episodes
Description:
Mr. Whiskers's First Friend: While on his way to camp, Mr. Whiskers meets Brandy, a member of the Florida Harringtons, which is a luxurious lineage of pure bred dogs. However, Brandy informs Mr. Whiskers that he isn't going to camp, but is actually being sold to a zoo for thirty three cents. While Mr. Whiskers is saddened that he won't see Brandy again, she asks him to turn on the light so she can read a magazine. Unfortunately, Mr. Whiskers opens up the air planes evacuation door! After the two fall into the Jungle, Brandy let's Gaspar Le Gecko take Mr. Whiskers in exchange for a map, but will Brandy decide to rescue Mr. Whiskers before Gaspar eats him, or will she disregard his plight? The Babysitter's Flub: While Brandy is at the beach, Mr. Whiskers tries to swim. However, when Mama Crock tries to eat Mr. Whiskers, Brandy goes to his rescue. Mama Crock is under the impression that Brandy is Mr. Whisker's babysitter and asks her to babysit her eggs. Brandy eventually accepts but when Lola Boa asks her to come with her to a watering hole, Brandy places Mr. Whiskers in charge of watching the eggs. However, will Mr. Whiskers be responsible enough to watch the eggs or will he end up messing up, causing Mama Crock to eat him?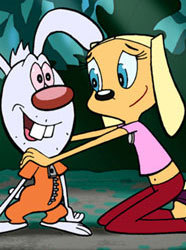 Brandy & Mr. Whiskers

Full Episode Guide
Episode 18 - The Tortoise and the Hare-Brain / Rip...

The Tortoise and the Harebrain: Ever since the great race between the tortoise and the hare, turtles have been insulting rabbits at every opportunity they get, since they consider themselves superior due to the fact that they won in the past. However, with Brandy's encouragement, Mr. Whiskers decides to challenge an insulting tortoise to a race to settle the score once and for all.Rip Van Whiskers: After coming into contact with a bunch of poisonous frogs, Mr. Whiskers realizes that he only has twenty-four hours to stay awake before he'll fall asleep for fifty years. Brandy, feeling responsible, decides to help him do everything on a list that he wants to fulfill before he falls into his deep sleep, though Brandy is reluctant to fulfill his wish to kiss a pretty girl.

Episode 17 - Big Girls Don't Body Slam / I Am Rain...

Big Girls Don't Body Slam: When Mr. Whiskers signs Brandy and himself up for a wrestling competition, Brandy reluctantly agrees to help him out on the condition that she can wear a disguise to ensure her reputation doesn't plummet. However, when Brandy's alter-ego, Sammy Crushington, proves to be the best wrestler in the Amazon, her reputation soon starts to spread and many of her fans start to debate on whether Sammy Crushington is a man or a woman; though Brandy's desire to keep her reputation a secret may cause her some internal strife.I Am Rainfo: After Brandy and Mr. Whiskers realize just how dull their life is, Mr. Whiskers stumbles across a suitcase filled with books and the two of them decide to read several books in order to try to find some entertainment. Mr. Whiskers picks up a book entitled 'I Am Rainfo', in which he believes Rainfo's world is the most dangerous and scary place he's ever seen, though he soon makes a discovery that causes him to question the very fabric of his surroundings and the true intentions that his friends have in store for him.

Episode 16 - The Monster In My Skin / Dollars And ...

The Monster In My Skin: When Brandy tells Mr. Whiskers that he has a pimple on his face, and that he's going through the first of many changes, he starts to believe he's turning into a monster; though when Brandy refuses to tell him anything else on the subject, he decides to resort to unorthodox means in an attempt to restore him to his previous state of normalcy. However, he soon decides to wreck havoc across the land and the creatures of the Amazon truly begin to consider him a monster; though Brandy knows more than she's willing to tell him.Dollars and $enseless Violence: When Mr. Whiskers comes across a bag of shiny rocks while trying to play a game with Brandy, they decide to go on a shopping spree in order to fulfill their fantasies and live the good life. However, despite the fact that their sudden increase in wealth causes them some unforeseen problems, they remain vigilant in their attempts to keep living the good life, even if it jeopardizes their own health.

Episode 15 - A Really Crushing Crush / Pickled Tin...

A Really Crushing Crush: Mr. Whiskers starts to go through a crises thinking that he will lose his best friend and guy time when Ed tells him that he has a huge crush on Lola Boa and is going to ask her out on a date. At first, Mr. Whiskers just tries to discourage the idea, but when that doesn't work, he launches a full blown attack to keep Ed from asking Lola the dreaded question, and all of his attempts fail. But soon it turns into a war between Brandy and Mr. Whiskers because Brandy is doing everything she can to get them together. While Brandy and Mr. Whiskers are distracted, nature takes its course with Ed and Lola becoming a couple, and Mr. whiskers realizing that his friend would never leave him.Pickled Tink: While playing with his new pinwheel one day, Mr. Whiskers accidentally puts himself in a trance. Brandy sees this as a way to get out of doing her chores, so she hypnotises him so that he will clean every time he hears the word pickle, and stop when he hears ketchup. Things seem to be going great for Brandy until Mr. Whiskers starts to act a little weird. She is finally convinced by Lola Boa to take Whiskers out of his trance, but when she goes to find the pinwheel, it's gone! Now Brandy has to try to recover the lost pinwheel to return Mr. Whiskers back to normal before it's too late.

Episode 14 - Stress Test / A Little Problem

Episode 13 - Itty Bitty Kitty / Brandy's Best-Ever...

Episode 12 - Go! Fight! Win! / Class Dismissed

Episode 11 - Sandy & Mr. Frisky / Thinking Outside...

Episode 10 - Con Hare / Rain Delay

Episode 9 - Auntie Dote / Curses!

Episode 8 - Net of Lies / Dog Play Afternoon

Episode 7 - You've Got Snail / The Magic Hour

Episode 6 - Pet Peeves / What Price Dignity?! (Ch...

Episode 5 - Loathe Triangle / Better Off Wet

Episode 4 - Any Club That Would Have Me As A Memb...

Episode 3 - The Tell-Tale Shoes / Time For Waffle...

Episode 2 - Pop Goes the Jungle / Wolfie: Prince ...

Episode 1 - Get a Job / Jungle Makeover
Episode 21 - Freaky Tuesday / The Brain of My Exis...

Episode 20 - The Show Must Go Wrong / Whiskers the...

Episode 19 - Mini Whiskers / Radio Free Bunny

Episode 18 - Trouble In Store / Payback

Episode 17 - Bad Brandy / Two Heads Are Not Better...

Episode 16 - One Of A Kind / Believe In the Bunny

Episode 15 - Bad Hare Day / Paw and Order

Episode 14 - Pedigree, Schmedigree / The Howler Bu...

Episode 13 - On Whiskers, On Lola, On Cheryl and M...

Episode 12 - Tree Huggin' Bunny / The Big Game

Episode 11 - Curse of the Vampire Bat / The Monkey...

Episode 10 - Flim Flam Fever / Private Antics, Maj...

Episode 9 - Dear Diary / Less Than Hero

Episode 8 - Lucky Rabbit's Feet / Blind Ambition

Episode 7 - Skin Of Eeeeeeeevil!!! / A Bunny On M...

Episode 6 - Lame Boy / Taking Paws

Episode 5 - Funky Bunny / The Going Bananas Repub...

Episode 4 - The Fashion Fascist / Happy Birthdays

Episode 3 - Lack of Brains vs. Brawns / The No Sl...

Episode 2 - Cyranosaurus Rex / To the Moon, Whisk...

Episode 1 - Mr. Whiskers's First Friend / The Bab...
If You Like Brandy & Mr. Whiskers, Then Try...