Watch Falcon Beach
Falcon Beach is a television drama about a group of teenagers in Falcon Beach, Manitoba. The central character in Falcon Beach is Jason Tanner, a young man who lives alone with his mother. He and his mother run a marina which is struggling to stay in business. Sometimes, Jason is able to wakeboard professionally to make money. His two best friends are Tanya and Danny, and the three of them have been close since their childhood.
Paige is the pretty and spoiled rich girl in town. She is smart as well and even attends Harvard. She definitely has a thing for Jason. Tanya has some difficulties growing up. She tries to make it in the modeling world, but she has no luck. While trying to break into modeling, Tanya picks up a dangerous addiction to cocaine. She dates Lane, Paige's brother, who ends up being a bad influence on her. Lane ends up killing a local drug dealer on an accident and finds himself facing a ton of trouble.
Danny is also having personal problems as well. His young girlfriend, Erin, gets pregnant and ends up delivering a stillborn baby. The resulting stress damages their relationship, and Danny and Erin break up.
Paige and Lane's mother has enough drama of her own to compete with the teenagers. She is having a passionate affair with another member of her country club. Her husband, Trevor, is incredibly wealthy but is having financial struggles. He has begun to commit fraud and embezzle from his company. Eventually, Paige and Lane discover what their father has been doing.
All of the characters become embroiled with each other when Trevor tries to buy Jason's marina and turn it into a luxurious resort. The proposed development has various townspeople in disagreement over whether it's good for the town or not.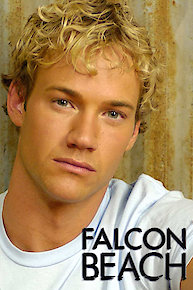 Falcon Beach

Full Episode Guide
Episode

13

-

The Next Life

In the series finale, Paige discovers who killed Mook; Tanya blames Lane for ruining their lives; Courtney accepts that she has lost Jason and is overcome with desperation; Erin surprises Danny with a visit.

Episode

12

-

Permanent Collection

Danny and Jason team up to try to win a truck at the annual scavenger hunt; Tanya is torn between Adrian and Lane; Trevor tries to win back Ginny.

Episode

11

-

Lovers and Cheaters

The fight for the marina is finally over when the bank forecloses on Jason and Peggy, while Tanya struggles to deal with Lane's confession about Mook.

Paige comes to a cross road when the Oasis is about to take ownership of the Marina, while Tanya decides to break up with Lane.

Episode

9

-

13 Minutes to Midnight

Episode

8

-

Sins of the Father

Episode

2

-

Strawberry Social Reject

Episode

1

-

After the Fall
Episode

13

-

Summer's Over

Episode

12

-

Reckless Love

Episode

9

-

Papa Was a Rolling Stone

Episode

8

-

The Blame Game

Episode

5

-

Summer Solstice

Episode

4

-

Getting to Know You

Episode

3

-

Family Portrait

Episode

2

-

Chemistry Lessons

Episode

1

-

Starting Over
If You Like Falcon Beach, Then Try...