Watch Home by Novogratz
Series Length:
2 Seasons,

26

Episodes
Schedule:
Saturday 10:00 PM et/pt on HGTV
Description:
A busy design team couple that has 7 children, now has a hot new residential design show on HGTV.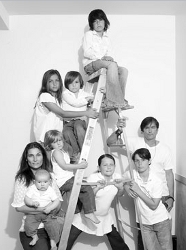 Home by Novogratz

Full Episode Guide
Episode 13 - Bing's Art Basel Miami VIP Party

First Aired: October 27, 2012

Bob and Cortney head to Miami to decorate an outdoor pool deck for a VIP party.

Episode 12 - Williamsburg Couple's Modern Meets Na...

First Aired: October 20, 2012

Bob & Cortney meet with doctors Shane & Ryan, who are looking for the perfect natural and modern blend in their loft layout.

Episode 11 - Masculine Mod East Village Bachelor P...

First Aired: October 13, 2012

Courtney & Bob transform a bachelor pad.

Episode 10 - Suzanne Vega's Upper West Side Two Be...

First Aired: October 06, 2012

Cortney & Bob collaborate with their friend Grammy-award winner Suzanne Vega and plan a modern redesign to her pre-war two bedroom apartment in the Upper West Side.

Episode 9 - Upper West Side Nursery and Boys' Bed...

Episode 8 - Modern Brooklyn Duplex

Episode 7 - Wendy Williams' Audience Holding Room...

Episode 6 - Long Island City Multi-Functional Liv...

Episode 5 - Long Island Kitchen Blowout

Episode 4 - Tony Hawk's Mammoth, Califiornia Livi...

Episode 3 - Brooklyn Brownstone Kids Room

Episode 2 - Vintage Industrial Gramercy Garden Ap...

Episode 1 - Pioneer Woman's Attic Space Transform...
Episode 13 - Hoboken Busy Bachelors

Episode 12 - Babakul At Fred Segal In Santa Monica...

Episode 10 - NYC Townhouse Staging Job

Episode 9 - Refurbishing the Novogratz Country Ho...

Episode 8 - Bedroom for Triplets in Midtown Manha...

Episode 7 - Paul Pierce's All Star Renovation At ...

Episode 6 - Pat & Rika's Cozy Williamsburg Condo

Episode 5 - Winegard Elementary Music Room

Episode 4 - Jan & David's Manhattan Townhouse

Episode 3 - Barry Family Condo in Long Beach, New...

Episode 2 - NYV Townhouse Staging Job

Episode 1 - Surfing Sisters Rockaway Chic