Watch Homeland
Homeland is a psychological, action-adventure thriller that tells the tale of an American P.O.W. who returns to the U.S. and the federal officers investigating his intentions. Based on the Israeli series Prisoner of War, the show currently airs on the United States cable network Showtime. It was developed from the Israeli version by Howard Gordon and Alex Gansa.
The antagonist in Homeland is CIA agent Carrie Mathison, portrayed by Claire Danes. An unconventional agent who makes an unauthorized visit to one of her informants in an Iraqi prison, Carrie is assigned to the Agency's Counterterrorism Center. It's here that she learns about the rescue of Nicolas Brody (British actor Damian Lewis), a Marine Sergeant who was captured by al-Qaeda and terrorist Abu Nazir eight years before and presumed dead.
In speaking with her mentor, Agent Saul Berenson, portrayed by Mandy Patinkin, Carrie reveals the informant's message to her before she was dragged out of the Iraqi prison - an American P.O.W. has been turned by al-Qaeda and now works for them. Though Saul dismisses Sergeant Brody as the turned P.O.W., Carrie still pursues her own investigation into the Marine's intentions, going so far as to illegally place cameras and microphones in his home without a warrant.
The first season of Homeland deals with Carrie's pursuit of Brody and her interactions with him as well as her investigation in the U.S. and Middle East connections tying back to terrorist Nazir. During this time both characters go through changes. Brody tries to return to normal life after his rescue, but flashbacks reveal he is very disturbed, the murderer of another Marine P.O.W, and, possibly, the person Carrie's informant mentioned. Carrie's emotions begin to fray as the investigation progresses. Through scenes with family members and friends it's revealed that Carrie has bipolar disorder.
What also changes is the relationship between Brody and Carrie. Finding a mutual wartime connection the two hit it off, despite Carrie's continued belief that Brody is an al-Qaeda operative. At one point, after the two drink too much, they end up having sex in Carrie's car and eventually drive off for a weekend getaway. However, after Carrie is caught in a lie concerning her surveillance, the relationship abruptly ends.
By the end of the first season it's learned that Brody did not kill the other Marine P.O.W., Tom Walker. In fact, Walker is in Washington D.C. on an assignment of his own - to kill Vice President Walden. Brody is also assigned to a similar task, but with a suicide vest instead of a sniper rifle. While this takes place, Brody is selected to run for a congressional seat being vacated by a corrupt politician. Meanwhile, after a bomb explosion causes a concussion, Carrie has a manic episode and nervous breakdown, resulting in her residency in a mental hospital and firing from the CIA.
Season two of Homeland is set about six months after the events of the first season finale with Brody a newly-minted Congressman for Virginia and Carrie, now an ESL teacher, working with the CIA in Lebanon. As the season progresses, Brody's true intentions are revealed to Carrie, resulting in his full confession. However, rather than go to jail, Brody decides to work with the CIA to capture Nazir. The end of the season reveals a large number of crossroads for the characters who survived.
Homeland, produced by Teakwood Lane Productions and Fox 21 in association with Showtime networks, premiered on the cable channel on October 2, 2011 and is now seen in 25 countries, including places like Israel and Iran. The show has won numerous awards since its premiere. In addition to Peabody and Golden Globe awards, Homeland swept the dramatic categories at the 2012 Emmy Awards, winning Outstanding Drama Series, Outstanding Actor and Actress awards for Claire Danes and Damian Lewis, and an Outstanding Writing Award for the show's pilot episode.
Homeland has been renewed for a third season of 12 episodes. As of this writing there has been no news of a premiere date.
Sunday 10:00 PM et/pt on

Showtime

5 Seasons,

61

Episodes - Returning Series

October 2, 2011

Drama

10

/
Watch Full Episodes of Homeland

Season 5, Episode 12
A False Glimmer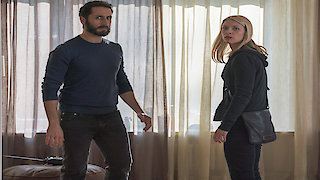 Season 5, Episode 11
Our Man In Damascus (01:00:11)
Season 5, Episode 10
New Normal (52:35)
Season 5, Episode 9
The Litvinov Ruse (55:33)
Season 5, Episode 8
All About Allison
Season 5, Episode 7
Oriole (50:14)

Watch Episodes
News
Clips & Extras
Homeland

Full Episode Guide
Season
5
12 full episodes, 36 clips available
Episode

12

-

A False Glimmer

Time is up. Season 5 Finale.

Episode

11

-

Our Man In Damascus

Carrie goes after a lead.

A possible new danger develops.

Episode

9

-

The Litvinov Ruse

A play is made by the CIA and the BND.

Episode

8

-

All About Allison

Carrie requires Allison's assistance; Quinn designs adjustments.

Carrie reopens old friendships; Saul concedes to Allison.

Saul commands a sweep at the station. Carrie turns to During for backup.

Episode

5

-

Better Call Saul

The hacktivists rebel; Quinn defends Carrie; Dar and Allison evaluate the loss.

Episode

4

-

Why Is This Night Different?

Answers escape Carrie; Laura turns to Jonas for assistance; Saul and Allison carry out an operation.

Jonas and Carrie return to her past. Quin stalks his victim.

Episode

2

-

The Tradition of Hospitality

Episode

1

-

Separation Anxiety

Carrie attempts to make a new life for herself in Berlin, but a petition from her boss places her back into the life she left behind.
Season
4
12 full episodes, 38 clips available
Episode

12

-

Long Time Coming

Carrie and Saul return to the U.S. and investigate what she saw in Islamabad.

Episode

11

-

Krieg Nicht Lieb

In order to get her team out of Pakistan, Carrie puts her life on the line.

Episode

10

-

13 Hours in Islamabad

The security breach has repercussions all round.

Episode

9

-

There's Something Else Going On

Carrie tries to save her mission using improvisation. The CIA close in on a leak.

Episode

8

-

Halfway to a Donut

Carrie organizes an eleventh-hour operation. Lockhart and Martha put their stall tactics to use.

Lockhart shows up. Carrie's investigation gets complicated.

Episode

6

-

From A to B and Back Again

Carrie executes her plan.

Carrie breaks down a scared resource. Quinn and Fara keep their eye on a new suspect.

Episode

4

-

Iron in the Fire

Redmond tips off Carrie. Saul calls in a favor. Fara uncovers a conspiracy.

Episode

3

-

Shalwar Kameez

Carries tries to form a delicate alliance with her counterpart at Pakistan's secretive Inter-Services Intelligence (ISI). Fara tries to recruit a key asset, but fails, so Carrie has to step in.

Episode

2

-

Trylon and Perisphere

Quinn is acting out of control. A disgraced former case officer reveals some disturbing new information.

Episode

1

-

The Drone Queen

Saul is having a hard time adjusting to being in the private sector.
Season
3
12 full episodes, 4 clips available
Season
2
12 full episodes
Season
1
13 full episodes, 3 clips available
If You Like Homeland, Then Try...
Most Popular Homeland Episodes
Season 5 Episode 1

Separation Anxiety

10/04/2015

Season 5 Episode 5

Better Call Saul

11/01/2015

Season 1 Episode 1

Pilot

10/02/2011

Season 5 Episode 12

A False Glimmer

12/20/2015

Season 3 Episode 1

Tin Man is Down

9/29/2013
Homeland News
Here's Your 'Homeland' Season 4 Trailer
Four seasons in, it's still the same ol' Carrie. The first-look trailer for "Homeland" season 4 is out, and it's definitely intense. Carrie Mathison (Claire Danes) looks to have already given birth to her baby, but exactly where the baby is, we're not sure...because she sure as heck isn't going with Carrie to Pakistan. Most of the action of the trailer follows Carrie around Pakistan, a departure from her plan to set up shop in Istanbul as the CIA station chief there.
Homeland - State of Independence Season 2 Episode 3 Recap
This episode of Homeland opens with Saul trying to get back to the United States with the sensitive information he uncovered at the end of last episode. The episode was another action packed eepisode adding more twists to the already pretzel shaped plot.
'Homeland' Season 2: Watch the 'Social Network'-Esque Trailer
The new trailer for "Homeland" season two is out, and it seems awfully similar to the trailer for "The Social Network." That's because it features the same choir that did that awesome cover of "Creep."
Damian Lewis of 'Homeland' Will Play Hailee Steinfeld's Dad in 'Romeo & Juliet'
"Homeland" star Damian Lewis just landed himself a bonafide Shakespearean role... and it looks like he'll be playing Hailee Steinfeld's dad in "Romeo & Juliet." See who else made it into the new Shakespeare adaptation.
View More News

Homeland Video Clips & Extras
Homeland | The Cast Talks About the New Season | Season 6
Clip (03:15)
Mission Statement - PALEYFEST NY 2016
Clip (02:56)
Filming During Paris Attacks - PALEYFEST NY 2016
Clip (01:46)
Trepidation and Tumult - PALEYFEST NY 2016
Clip (02:16)
Character Study - PALEYFEST NY 2016
Clip (02:48)
Prescience and Preparation - PALEYFEST NY 2016
Clip (02:33)
Homeland Season 6 (2017) | Teaser Trailer | Claire Danes & Mandy Patinkin SHOWTIME Series
Clip (01:52)
Homeland Season 6 (2017) | Critics Rave Trailer | Claire Danes & Mandy Patinkin SHOWTIME Series
Clip (01:41)