Watch Lab Rats
The television series Lab Rats follows around the main character Leo and his life adventures. Leo lived alone with his mother who was a television reporter until she decides to get married again. Leo's mother married a billionaire and has a whole new life. Leo meets Adam, Bree, and Chase who he develops a quick friendship. There is something unusual about his new friends. While looking for his bedroom he discovered these teens living in the basement. The teens all have some sort of bionic powers. Leo takes it upon himself to introduce these teens to the life of a normal teenager including going to school and attempting to have a normal family life.
Leo is fourteen when he finds the others. He has been a social outcast most of his life and has trouble keeping some friends. Chase has above normal intelligence. He can create force fields and is a natural leader. When he is upset he can shrink the force field to fit into his hand and use that way. Despite all he has going for him Chase is still rude and controlling. He is tough for being only fifteen years old.
Adam is older at the age of seventeen. He has incredible strength and is very tall. He also has laser vision which he is struggling to use properly. The downfall of Adam is that he gets easily frustrated and grenades shoot out of his hands when he gets very happy. Bree is sixteen and is very fast and lean. She can also jump very high which can be both good and bad for her depending on the situation.
Donald Davenport is the billionaire inventor. He is the closest things these teenage experiments have to a father. He can be self centered at times and is used to only worrying about his needs. With five teenagers in his household he is about to be in for a big change.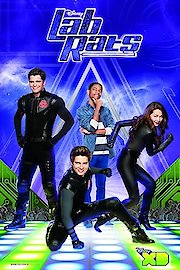 Lab Rats

Full Episode Guide
Season 5
(15 full episodes)
Episode 6 - Bionic Island: Simulation Manipulatio...

Adam and Chase lead students in a series of challenges.

Episode 5 - Bionic Island: Mission Mania

Feeling left out, Leo decides to promote himself, which results in more mission alerts than the team can handle.

Episode 4 - Bionic Island: Bionic Dog

Douglas' long lost dog Otis shows up on the island.

Episode 3 - Bionic Rebellion: Under Siege

Suspicious events happen overnight at the academy.

Episode 2 - Bionic Island: Left Behind
Season 4
(48 full episodes)
Episode 26 - Bionic Rebellion: Part 1 and 2

Episode 25 - Forces Unite

Episode 24 - Mission Fail

Episode 23 - Unauthorized Mission

Episode 22 - Adam Steps Up

Episode 21 - First Day of Bionic Academy

Episode 20 - Bionic Houseparty

Episode 19 - Rise of the Secret Soldiers

Episode 18 - Merry Glitchmas

Episode 16 - Spike Fright

Episode 15 - Brother Battle

Episode 14 - Alien Gladiators

Episode 13 - Armed and Dangerous

Episode 12 - You Posted What!?!

Episode 11 - Cyborg Shark Attack

Episode 10 - Which Father Knows Best?

Episode 9 - Three Minus Bree

Episode 7 - Principal from Another Planet`

Episode 6 - Scramble the Orbs

Episode 4 - Not So Smart Phone
Season 3
(75 full episodes)
Season 2
(29 full episodes)
Season 1
(27 full episodes)