Watch Less Than Kind
Series Length:
4 Seasons,

47

Episodes
Schedule:
Tuesday 9:00 PM et/pt on DirecTV
Description:
Sheldon is a 15-year-old trying to get through his teenage years being Jewish, overweight, and smart. He has to deal with a family who struggles keeping their business open.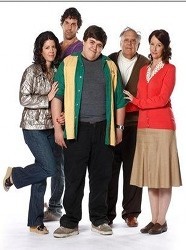 Less Than Kind

Full Episode Guide
Episode 9 - Finale, Part 2

Episode 8 - Fight and Flight

Sheldon ends up at Jim's door; Anne mistakes Jim's return for a romantic overture; Sheldon enlists his family to help set his friends right.

Episode 7 - Before the End Begins

Clara must face her resentment; Sheldon senses a problem with his friends; Josh and Eric cut corners at work.

Anne is furious when no one notices her absence; Eric supports Josh through his depression; Jack further confuses Miriam, and Sheldon confronts Danny about this job.

Episode 5 - Something Blue

Episode 2 - Female Trouble

Episode 1 - I'm Only Nineteen
Episode 12 - Not Weird or Awkward, Just Awesome

Episode 11 - The Promise Bone

Episode 10 - Jerk Chicken

Episode 8 - Danger, Wrestling!

Episode 6 - Lawyers and Cougars and Bankers, Oh M...

Episode 5 - Reparations and Renewal

Episode 4 - Coming Around

Episode 2 - Play It Again, Sam
If You Like Less Than Kind, Then Try...