Watch Lovespring International
Lovespring International is 2006 Lifetime American comedy series that was created by Brad Isaacs and Guy Shalem. The executive producers are Big Cattle Productions Eric McCormack and Michael Forman. The show basically revolves six employees at the "Lovespring International" which is a well known dating agency in Tarzana, California. It also takes at least 1 guest star for each episode, and this guest becomes the seeker of the "match" in that particular episode.
These main characters or the employees in the show include manager Victoria Ratchford played by Jane Lynch, intelligent psychologist Steve Morris who's played by Jack Plotnick, receptionist Tiffany Clarke who's played by Jennifer Cox, a staff videographer Alex Odom who's played by Mystro Clark, and the matchmakers Burke Kristopher who's played by Sam Pancak. It is an improvised comedic sitcom that is set in the San Fernando Valley area as a matchmaking agency.
It follows Victoria where she tries to match individuals with their love issues. The service's head owner, Victoria is a highly demanding person who is also the unofficial host of the entire show. The show however only lasted for a single season despite great response from critics and viewers. The sitcom however can be viewed in DVD format and other past online tv series sites.
The show begins with Burke taking credit for Lydia's hard working video feedback idea. This is Lovespring's biggest client and forces her to threaten to drop the company if they are unable to find her higher quality men. This is the beginning of their match making journey that leads to great success. The show then persists of the staff falling for each other and finding the perfect match for those seeking their somewhat professional help.
As the staff sees their match making skills to work, they then market themselves for being a high quality Elite Beverly Hills love agency. Considering their own love personal issues, they are less than capable to help individuals with their love problems.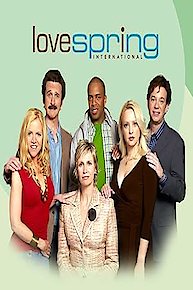 Lovespring International

Full Episode Guide
A real estate fiasco is the final blow to Victoria's financial situation. Vulnerable, she is confronted by her long time nemesis, Nancy, who offers to buy Lovespring.

Victoria tries to avert financial disaster by accepting her old rival Nancy's offer to buy Lovespring International. She also begins playing the stock market---with Lydia's money. Meanwhile, Burke rashly agrees to start a family with his wife, Figgy.

Burke smuggles a homeless woman, Lucinda (Alanis Morissette), into the office so she can paint his office in exchange for a meal.

Lovespring's newest client, Joe, represents a particular challenge, as he spends much of his time donating sperm and fathering children, instead of dating women.