Watch Man Caves
Man Caves is a DIY TV show featuring Jason Cameron and Tony Siragusa as the hosts. The show features ways to create your man cave and different schemes for the man cave. Each episode shows the hosts a designing and creating a man cave for one lucky viewer. Jason and Tony will also showcase different projects on the show. This can range anywhere from installing a tin city to something basic like how to hang a punching bag. The show provides tips on how to create a man cave and what you need in order to get started on a man cave. Every episode features a different theme and you will see all the tools and what?s needed to get it done.
You are able to apply to win one of the featured man-caves. The Man-Caves team will assist in designing the perfect man cave if you are the lucky winner. Tony and Jason will also give tips on how to cut costs and how to even turn anything into a perfect memorabilia item for the man cave and make it feel unique.
Friday 8:00 PM et/pt on DIY Network

13 Seasons,

154

Episodes - Currently Airing

10

/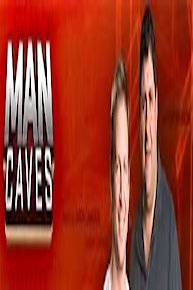 Man Caves

Full Episode Guide
Episode

9

-

Night on the Pier Man Cave

Episode

8

-

Pirate Man Cave

Episode

6

-

High Voltage Man Cave

Episode

5

-

Direct TV's Ultimate Tailgating Man C...

Episode

4

-

Kevin Jonas' Main Street USA Man Cave

Episode

3

-

Paul Rabil's Lacrosse Man Cave and Of...

Episode

2

-

Jeff Ross' Roast Master General Man C...

Episode

1

-

NFL Sunday Ticket Cave

Tom's a big Miami Dolphins fan living in New Jersey, so the Man Cave team turns his basement into the perfect place to follow his team from afar.
Episode

8

-

Man Caves turn a Master Bedroom into ...

Man Caves transforms a master bedroom into the ultimate nautical man cave.

Episode

6

-

Man Caves renovates an unused room in...

Man Caves transforms an unused room in NFL Punter Chris Kluwe's house into a Video Gamer Cave.

Episode

5

-

Kevin Smith gets his podcast studio m...

Episode

4

-

Man Caves build MLB All Star Nomar Ga...

Kenny and Bas are live from Los Angeles to preview a double dose of UFC action as Benson Henderson takes on Rafael dos Anjos from Tulsa and Michael Bisping goes to battle with the always exciting Cung Le from Macau.

Episode

3

-

Man Caves builds Anthony Signorelli a...

Man Caves builds Anthony Signorelli a cool 50's themed Supper Club Cave.

Episode

2

-

Police Officer and board game addict ...

Jason, Tony, and the Man Cave crew transform an empty basement into a board gaming haven for a police officer from New Jersey.
If You Like Man Caves, Then Try...