Watch Switched at Birth
Switched at Birth airs on ABC Family. The show features two teenagers, Daphne Vasquez and Bay Kenish, and their respective families. Viewers learn that the two girls were switched in the hospital and given to the wrong families. The show chronicles the lives of both families as they learn to live together, and features the drama that unfolds in all of their lives.
Daphne lives with a single mother Regina. Regina works as a hairdresser and the family lives very modestly on her income. Daphne is hearing impaired and is verbal, also reading lips and using sign language. Daphne attends a school for hearing impaired students. Daphne plays basketball on the school team. Her best friend, Emmett, is also hearing impaired and begins dating Bay.
Bay lives with parents John and Kathryn Kenish and her brother, Toby. The Kenish family is very wealthy. John Kenish was a professional baseball player. Kathryn decides to sue the hospital for the mistake of mixing up Bay and Daphne when they were born. Her husband supports her in this pursuit but Regina wants nothing to do with the court case or involving the government. Kathryn also decides to write a memoir about her life raising a daughter that is not biologically hers.
Much of Switched at Birth involves the guys that Daphne and Bay date, and the adjustments that come with learning of their real identities. Although the daughters continue to live with the families that raised them, they also try having relationships with their biological parents. This is sometimes a big adjustment to both of them, as the families have quite different socioeconomic backgrounds and living styles. Despite the differences there are also similarities. Daphne bonds with her biological father, John, over their love of sports and Bay is very much like her biological mother, Regina, in that they both are artists and have a rebellious streak in them.
Another of the major plot lines in Switched at Birth is Bay trying to find her biological father. The subject is a difficult one for Regina and Daphne and Bay enlists Emmett to help find him. Part of the difficulty is that Regina seems to be hiding something about his identity.
Switched at Birth has run for two seasons on ABC Family and a third season is set to air in the fall of 2012.
Watch Full Episodes of Switched at Birth

Season 4 Episode 20
And Always Searching...
Season 4 Episode 19
A Mad Tea Party (42:14)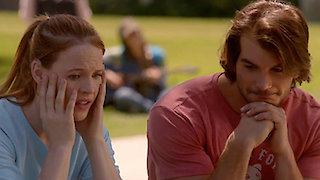 Season 4 Episode 18
The Accommodations o... (42:36)
Season 4 Episode 17
To The Victor Belong...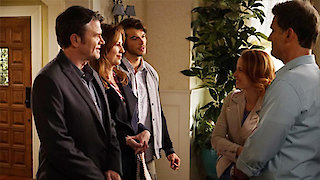 Season 4 Episode 16
Borrowing Your Enemy...
Season 4 Episode 15
Instead of Damning t...

Watch Episodes
News
Clips & Extras
Switched at Birth

Full Episode Guide
Season
4
20 full episodes, 66 clips available
Episode

20

-

And Always Searching for Beauty

Episode

19

-

A Mad Tea Party

Regina tends to an emergency with Will, so Bay ends up hosting Lily's baby shower. Lily is concerned about what others will think of her choice.

Episode

18

-

The Accommodations of Desire

Bay tries to decide if she is ready to date Garrett; Daphne and Quinn's conversations are influencing her relationship with Mingo; and John and Kathryn look for new money making ventures. Also, Lily and Toby get ready to be new parents.

Episode

17

-

To The Victor Belong The Spoils

Mingo puts together a fundraiser with Daphne for a sigh language school in Mexico. Meanwhile: Bay is upset when a student sells crude T-shirts with her artwork on them and Regina has to deal with knowing about Eric's past.

Episode

16

-

Borrowing Your Enemy's Arrows

Daphne and Mingo are deflated when they learn that their parents don't get along. In addition, Bay's rendezvous with Garrett gets uncomfortable when she bumps into Tank.

Episode

15

-

Instead of Damning the Darkness, It's...

Bay, Daphne and Travis travel to Mexico to volunteer with Melody during their spring break.

Episode

14

-

We Mourn, We Weep, We Love Again

Regina leaves the guest house. When Kathryn and John talk about their budget, they decide to endorse products. Daphne wants to be a dorm safety captain so she goes on an emergency service ride-along.

Episode

13

-

Between Hope and Fear

Travis travels to L.A. to see Emmett and is disappointed about how his buddy is different. Regina is hesitant to move in with Eric because of Will's mother.

Episode

12

-

How Does a Girl Like You Get to Be a ...

Bay signs up for a class at UMKC and receives unwanted attention because of the school's new harassment policy. Daphne's scholarship is in jeopardy.

Episode

11

-

To Repel Ghosts

Bay is heartbroken over her breakup with Emmett. John and Kathryn receive some bad financial news. Daphne's friends aren't as impressed with Mingo as she is.

Episode

10

-

There is My Heart

Emmett receives an unexpected visit from Bay. Daphne is disappointed with her performance in school.

Episode

9

-

The Player's Choice

Travis' popularity as an athlete complicates his relationship with Mary Beth. Daphne decides to take Iris's advice and rush a sorority.

Episode

8

-

Art Like Love is Dedication

Bay considers what her next step will be in her art career while Regina extends an invitation to Eric and his son to come stay with her.

Episode

7

-

Fog and Storm and Rain

The forecast of an intense storm forces the family to stay indoors for safety.

Episode

6

-

Black and Gray

An investigation ensues after the college administration learns of Bay's personal matter.

Episode

5

-

At the First Clear Word

Bay goes drinking with Tank but has no recollection of the events of the evening.

Episode

4

-

We Were So Close That Nothing Used to...

Emmett surprises Bay; Daphne gets a bad grade on her midterm.

Episode

3

-

I Lock the Door Upon Myself

Bay's criminal record could prevent her from displaying her art. Daphne stands up to the dorm prankster.

Episode

2

-

Bracing the Waves

Daphne's pre-med chemistry class gets off to a rocky start; Kathryn meets with a movie producer; Bay and Emmett are overwhelmed with their long distance relationship.

Episode

1

-

And It Cannot Be Changed

In the fourth season premiere, the family learns that Bay took the blame for Daphne; Daphne starts college.
Season
3
22 full episodes
Episode

22

-

Yuletide Fortune Tellers

Days before Christmas, Bay and Daphne switch places a la Freaky Friday in an alternate reality where the Switch never happened.

Episode

21

-

And Life Begins Right Away

It's Bay and Daphne's graduation day.

Episode

20

-

Girl on the Cliff

After dress-code rules are tightened, Bay has second thoughts about going to prom.

Episode

19

-

You Will Not Escape

Daphne gets everyone together for a senior ditch day at Carlton, but things turn chaotic.

Episode

18

-

It Isn't What You Think

After Tank meets his father for dinner, Bay comes to support him. Toby is a troublemaker for Lily. Daphne and Travis receive their admission results from Gallaudet University.

Episode

17

-

Girl with the Death Mask (She Plays A...

Bay and Daphne travel to Chicago with John in hopes of finding Bay's cousin and to give Daphne an opportunity to tour a college. Meanwhile, Kathryn plays matchmaker.

Episode

16

-

The Image Disappears

The Kennish and Vasquez families are struggling with lots of grief after an unexpected accident leaves a loved one in critical condition.

Episode

15

-

And We Bring the Light

Toby has a new career plan after he goes home from Iceland.

Emmett gets some surprising news after he goes to his father's house warming party.

Episode

13

-

Like a Snowball Down a Mountain

Bay and Emmett discover something surprising when they challenge Mathew's threats of blackmail. Daphne is given a great opportunity at the clinic but worries the affects it'll have on Campbell. Kathryn is haunted by her past.

Episode

12

-

Love Among the Ruins

Melody wants Matthew to quit bullying Emmett.

Episode

11

-

Love Seduces Innocence, Pleasure Entr...

Bay is determined to find the truth about Emmett's girlfriend. Daphne second guesses her abilities to volunteer at the clinic when she runs into someone from her past. Feeling guilty about her actions, Regina takes a chance at work.

Bay and Tank retaliate when the rivalry between the Carlton and Buckner field hockey teams gets heated. Toby gets a surprise visit from Nikki. Regina's relationships in her old neighborhood become valuable to her work.

Episode

9

-

The Past (Forgotten-Swallowed)

While Bay is confronted with Mary-Beth's growing feelings for Tank, Daphne helps Angelo with a fundraising event. Meanwhile, John and Katherine spend time with his former baseball teammate.

Episode

8

-

Dance Me to the End of Love

Episode

7

-

Memory is Your Image of Perfection

Daphne encourages Sharee to find help for her mother. Bay and Toby plot to get their parents on the same page. Adrianna clashes with Regina over her new project.

Kathryn's murder mystery party takes an unexpected turn when both John and Kathryn discover something about each other. Bay tries to get invited to Tank's fraternity luau.

Episode

5

-

Have You Really the Courage?

Kathryn is excited to get a second chance at being an author when Renzo sets up a pitch meeting with his book editor friend. Bay is concerned Tank may be infatuated with her. Daphne is worried about Sharee's home life.

Episode

4

-

It Hurts to Wait With Love If Love Is...

Bay is surprised by her feelings when she learns that Emmett has moved on. Jorge invites Daphne to join him at a family function. Regina and Angelo discuss their business ventures.

Daphne tries befriending her field hockey teammate, Sharee, but is met with resistance. Bay hopes to get a letter of recommendation from her art teacher for her art school application.

Episode

2

-

Your Body Is A Battleground

Episode

1

-

Drowning Girl

In the third season premiere, Bay and Daphne's senior year commences with a new group of hearing students who are less than pleased to be at the school. Meanwhile, Daphne begins her probation and Bay finds inspiration from her art teacher.
Season
2
21 full episodes
Season
1
30 full episodes
If You Like Switched at Birth, Then Try...
Most Popular Switched at Birth Episodes
Season 3 Episode 10

The Ambush

3/17/2014

Season 2 Episode 21

Departure of Summer

8/19/2013

Season 4 Episode 20

And Always Searching for Beauty

10/26/2015

Season 1 Episode 11

Starry Night

1/03/2012
Switched at Birth News
Summer TV Series Feature: ABC Family's 'The Great State of Georgia,' 'Switched at Birth' and 'The Nine Lives of Chloe King'
ABC Family is rolling out a new one-hour scripted drama for the summer months. "Switched at Birth" follows the lives of two teenage girls who were given to the wrong parents as babies in the hospital. Growing up, the two girls could not have had different upbringings. One of them, Daphne Vasquez, lost her hearing as a young girl due to meningitis and was raised in a working class home by a single mother.
Switched at Birth Video Clips & Extras