Watch The Apprentice
The Apprentice is a reality television show broadcast on NBC and hosted by Donald Trump. On the show, Trump, a world-renowned real estate magnate, businessman, and multi-billionaire oversees a competition between up to 18 business people that strive to be the next winner of a $250,000 business starting contract for one of Trump's companies. Like most reality shows, The Apprentice is based on weekly eliminations to narrow down the pool of competitors to the most promising finalists. At the end of each episode, the eliminated contestant will be sent home with Trump's final words, "You're Fired."
Each season of The Apprentice features a group of competitive contestants from different business backgrounds and areas of expertise, including marketing, real estate, accounting, and consulting. Upon arrival, the contestants will share space and build relationships with other competitors at a communal penthouse provided by Trump. In the first week, the candidates are divided into separate teams that face challenges together and compete against each other. Each team selects a project manager for the week's task to be completed satisfactorily. The team that wins the weekly challenge is rewarded and the losing team will face elimination in a two stage board room meeting.
During eliminations, it is up to the project manager to choose those team members that he believes to be the most detrimental to the team's integrity and cohesiveness. This is stage one of the elimination process. In step two, the project manager along with the selected candidates will partake in a second board meeting, in which Trump then decides which of the candidates will leave the show. Sometimes unforeseen twists in the show will bring about the elimination of multiple players who are not expected to deliver satisfactory performance in the future or cause candidates to resign prematurely.
After all except the final three or four candidates have been eliminated, company executives come in to conduct interviews with the remaining contestants and assess their competencies. Trump will then proceed to eliminate other candidates to bring the remaining total down to the final two, who will perform a series of tasks with the help of support teams comprised of former candidates to prove that they are the best match for Trump's company in question. The winner is then selected in a final boardroom meeting, where testimonials from other candidates are weighed in and both remaining candidates are able to make a final case to the company's CEO. The winner automatically becomes the season's Apprentice.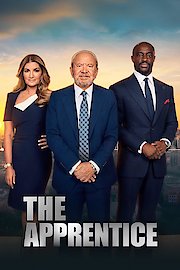 The Apprentice

Full Episode Guide
Episode 8 - Live Finale: A New Celebrity Apprenti...

Episode 7 - Top Feuds, Firings and Fails

Episode 6 - Universal Wizards

Episode 5 - Who Stole My Phone?

Episode 4 - It's Like a Booze Cruise with Knowled...

Episode 3 - I Wish I Had a Project Manager

Episode 2 - A Family Affair

Episode 1 - May the Gods of Good Pies be wih Us