Watch The Emmy Awards
Larry King Now is a new show that airs on CNN. It is a talk show that is hosted by the renowned host Larry King. In this show viewers are able to watch the host discuss various topics in politics and world events. During the show he interviews a number of people who are knowledgeable of the topics he is discussing. Those who enjoy watching shows that talk about politics will likely find this show very appealing. It is a very comprehensive talk show and therefore provides viewers with a great option when it comes to being informed on world events.
The show begins with Larry King introducing himself and then he begins to discuss the most significant political and news topics of the day. During the beginning of the show he talks about the first issue and the facts surrounding it. He then has his first interview guest and asks them questions about the issue and that person's perspective. This process repeats itself a few times and you get to have the opportunity to learn more about the topics being discussed in more detail. As a result this show is very informative and is very appealing to those who enjoy learning about significant events in the world and the nation.
When it comes to target audience, Larry King Now is mainly for educated people who are well informed about world events. Those who want to learn about the latest political policies, wars, economic issue as well as scandals will have a very good viewing experience when watching this particular show. This show will be very appealing to those who enjoy watching the news and learning about events that are going on. Instead of just watching the news, people can watch this show to help give them more insight on what is happening in the world. Getting perspectives from interviews also helps gain more information about the main topics of the day. Larry King Now is one of the more informative and comprehensive shows being aired right now.
Yearly on CBS

68 Seasons,

73

Episodes - Special Event

4.5/10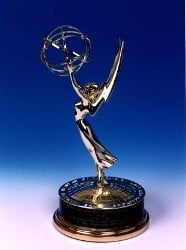 The Emmy Awards

Full Episode Guide
Season 2014
(5 clips available)
Episode 2 - The 66th Annual Emmy Awards

Episode 1 - The 66th Primetime Emmy Red Carpet Sp...

Billy Bush presents live coverage from the red carpet of this years ceremony.
Season 2013
(41 clips available)
Episode 1 - The 65th Annual Emmy Awards

Watch the biggest night in television as Neil Patrick Harris returns to host the 65th Annual Emmy Awards.
Season 63
(9 clips available)
Season 61
(2 clips available)
If You Like The Emmy Awards, Then Try...
The Emmy Awards News
View More News