Watch WWE Tough Enough
WWE Tough Enough is a reality television show that pits 13 contestants who are all competing to earn a contract to be the next new WWE professional wrestling superstar. Much like other talent show set ups the contestants face different challenges from week to week and are eliminated by a panel of judges that include WWE Superstars such as Al Snow, Jacqueline and Tazz. The competitors are also visited weekly by other WWE stars who are sent to mentor them and give them some in-ring training.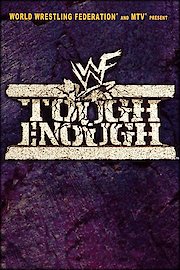 WWE Tough Enough

Full Episode Guide
Episode 10 - Season 5 Winner is announced

Episode 6 - It's Getting Down to Nut Cuttin' Time

Episode 5 - Don't Take My Kindness for Weakness

Episode 4 - 110 Pound Elephant in the Room

Episode 3 - Bad Day, Real Bad Day

Episode 2 - Five for Flinching

Episode 1 - Get Your Teeth Out Of My Ring - The 1...
Episode 7 - The Tough Enough $1,000,000 Download
If You Like WWE Tough Enough, Then Try...