Watch WWE Tough Enough
Series Length:
5 Seasons,

59

Episodes
Schedule:
Mondays at 08:00 pm on USA
Description:
The most intense reality competition comes to viewers on "WWE Tough Enough". Contestants receive professional training from then compete for a contract with WWE.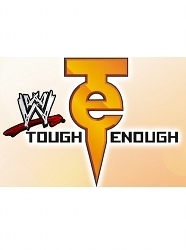 WWE Tough Enough

Full Episode Guide
Episode 10 - Season 5 Winner is announced

Episode 6 - It's Getting Down to Nut Cuttin' Time

Episode 5 - Don't Take My Kindness for Weakness

Episode 4 - 110 Pound Elephant in the Room

Episode 3 - Bad Day, Real Bad Day

Episode 2 - Five for Flinching

Episode 1 - Get Your Teeth Out Of My Ring - The 1...
Episode 7 - The Tough Enough $1,000,000 Download
If You Like WWE Tough Enough, Then Try...