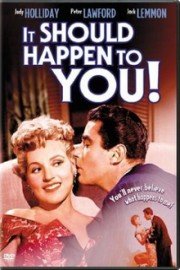 Watch It Should Happen to You
"In 'Born Yesterday' I got two mink coats - this time I get everything!"
Approved
1954
1 hr 26 min
Gladys Glover has just lost her modelling job when she meets filmmaker Pete Sheppard shooting a documentary in Central Park. For Pete it's love at first sight, but Gladys has her mind on other things -- like making a name for herself. Through a fluke of advertising she winds up with her name plastered over 10 billboards throughout city. Suddenly all of New York is clamoring for Gladys Glover without knowing why and playboy Evan Adams III is making a play for Gladys that even Pete knows will be hard to beat.