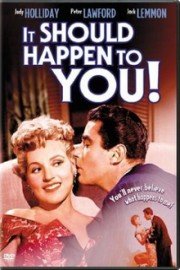 Watch It Should Happen to You
"In 'Born Yesterday' I got two mink coats - this time I get everything!"
Approved
1954
1 hr 26 min
It Should Happen to You is a 1954 classic romantic comedy film directed by George Cukor and starring Judy Holliday, Jack Lemmon, and Peter Lawford. Holliday plays Gladys Glover, a young woman from rural America who moves to New York City with the hopes of becoming famous. Lemmon is Pete Sheppard, an aspiring documentary filmmaker who becomes romantically involved with Gladys, while Lawford plays the wealthy corporate executive, Evan Adams III, who offers Gladys a chance at fame. The movie opens with Gladys' arrival in New York City, where she is determined to become famous. She discovers an empty billboard in Columbus Circle and decides to rent it to advertise herself. With the help of friend and neighbor, Brod Clifton (played by Michael O'Shea), she has the word "Gladys" painted on the billboard, with the hopes of catching the attention of the masses. Her plan works, and she becomes an overnight sensation in the city. However, her newfound fame comes at a cost as she becomes trapped in a world where she is constantly in the public eye. She is manipulated by several individuals who see her as a means to their own ends. Evan Adams III, for example, offers her a chance to become a model for his company, but only if she agrees to change her name to "Vicki Lester." As Gladys navigates her new life, she begins to realize that fame is not everything it's cracked up to be. She becomes disillusioned with the people who have been using her for their own gain, including her own boyfriend, Pete, whose documentary on Gladys turns out to be a shallow attempt to exploit her fame for his own success. Throughout the film, Judy Holliday delivers an outstanding performance as the naive yet determined Gladys Glover. She brings a certain charm and innocence to the character, making her relatable and likable to the audience. Her character's journey from small-town girl to national celebrity is captivating and poignant, highlighting the price one pays for fame and the true meaning of fulfillment. Jack Lemmon also delivers a noteworthy performance as Pete Sheppard, Gladys' love interest. He provides a perfect balance to Holliday's Gladys, serving as the voice of reason in her life. His character's documentary on Gladys is a reflection of his sincerity towards their relationship and his willingness to share her story with the world. Their chemistry on-screen is undeniable, making their relationship one of the highlights of the film. Peter Lawford, too, delivers an impressive performance as Evan Adams III, the corporate executive who offers Gladys a chance at fame. His character is suave and sophisticated, yet also manipulative and selfish. He serves as a reminder of the dangers that come with fame, and the importance of staying true to oneself. Overall, It Should Happen to You is a timeless classic that showcases the beauty and dangers of the pursuit of fame. It is a captivating romantic comedy that continues to be appreciated by audiences of all ages. The film serves as a reminder to never lose sight of one's true self amidst the chaos of fame and fortune.