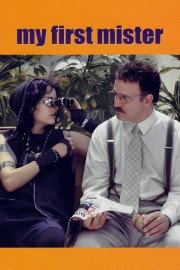 Watch My First Mister
"Mismatched. Misguided. Unmistakably friends."
R
2001
1 hr 49 min
48
My First Mister is a heartwarming dramedy from 2001, directed by actress and director Christine Lahti. The film stars Albert Brooks and Leelee Sobieski in the lead roles, while veteran actress Rutanya Alda portrays a supporting character. The movie tells the story of a lonely, middle-aged man named Randall (Brooks), who runs a men's clothing store in a mall. He has no family or friends and leads a mundane, isolated life. He spends his days working at the store, going home, eating alone, and watching TV. One day, a rebellious teenager named Jennifer (Sobieski) walks into Randall's store, and the two strike an unlikely friendship. Jennifer has a pierced tongue and face, wears unconventional clothes, and has a don't-care attitude towards the world. She does not fit in with the popular people in her high school and is often mistreated and misunderstood. However, Randall sees Jennifer for who she is, and they quickly form a bond that brings them closer than ever before. As the movie progresses, we witness the development of their friendship as they share their experiences, thoughts, and feelings with each other. Jennifer acts as a catalyst for Randall to break out of his shell and try new things like getting a tattoo and piercings. She helps him see the world from a different perspective and makes him realize that there is more to life than just following the same routine every day. Randall, in turn, becomes a mentor for Jennifer, advising her about the pitfalls of being too rebellious and encouraging her to pursue her artistic talent. As Jennifer's life at home becomes more complicated, including a tense relationship with her mother (Alda), who is struggling to cope with her own demons, she begins to rely heavily on Randall for support. Through their friendship, Randall and Jennifer learn important lessons about love, loss, and acceptance. The film beautifully explores themes of ageism, loneliness, and unconventional relationships. The acting in the movie is exceptional, with Brooks giving a nuanced performance as the lonely store owner, while Sobieski shines as the troubled teenager who is struggling to find her place in the world. There is excellent chemistry between the two actors, and they manage to bring out the best in each other. The supporting cast, including Alda, is also solid, with each actor delivering their respective roles with aplomb. The movie also boasts an excellent soundtrack, featuring songs from artists like Jeff Buckley, Radiohead, and The Rolling Stones. The music adds to the film's overall tone, which is at times melancholy, poignant, and uplifting. My First Mister is a movie for those who believe in the transformative power of friendship. It is a story about two people from different worlds coming together and discovering that they have more in common than they thought. The film manages to blend drama and comedy seamlessly, capturing the complexity of human emotions and relationships. In conclusion, My First Mister is a touching and heartwarming movie that will stay with you long after the credits have rolled. With its excellent performances, relatable story, and beautiful soundtrack, it is a must-watch for all those who appreciate good cinema.