Beginning Callanetics
These 1989 exercise routines will have you fit and fabulous in no time at all. Not to be confused with calisthenics, callanetics were introduced by Callan Pinckney who developed a program utilizing the flowing and smooth movements of ballet. Viewers can follow the simple and clear instructions to firm specific parts of the body or just recondition all over. It is a great program for individuals who suffer from a bad back or knee pain. It has a steady pace with slower, precise movements that work the deeper muscles in the body. Following the program can lead to better flexibility, weight loss and improved posture.
1 Season,

1

Episode

January 1, 1989

Cast:

Callan Pinckney, Lane Middleton Arnold, Suzette Breitbart, Naomi Fisch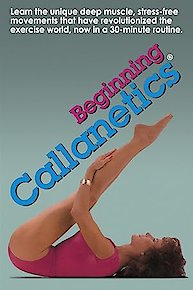 Beginning Callanetics Full Episode Guide
Episode

1

-

Beginning Callanetics

Callan Pinckney, the creator of Callanetics, gives almost an hour of clear, complete instructions on how to perform every movement in this 30 minute beginner's routine. Unlike other exercise programs that stress hard jerking motions, Beginning Callanetics is a safe, gentle, easy-to-learn routine designed especially for the beginner. If you have never exercised before or if you are trying to get back into a regular routine, Beginning Callanetics has been developed so you can learn the fundamentals of Callanetics at your own pace. Callanetics is a series of small, gentle, precise motions consistently applied that quickly tighten hips, buttocks, inner and outer thighs, flatten the tummy, lift the bust, firm underarms, tone the entire body and dramatically improve your posture. Featuring exercises for every part of the body, Beginning Callanetics also includes a special bonus section of exercises to improve and strengthen your back.