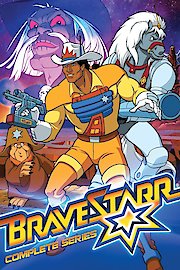 Watch BraveStarr
TV-Y7
1987
1 Season
In the distant future, the planet New Texas is the new frontier, filled with danger and adventure. In this setting, BraveStarr, the titular hero of the show, is a Native American lawman who is tasked with keeping the peace and protecting the people of New Texas. BraveStarr possesses special abilities that allow him to focus his powers, making him one of the most powerful and skilled lawmen in the galaxy.
The show BraveStarr is an animated series that aired from 1987 to 1989. It was produced by Filmation, the company that created several acclaimed animated shows such as He-Man and the Masters of the Universe, She-Ra: Princess of Power, and The Adventures of Batman.
The show uses a combination of western, science fiction, and Native American themes to create a unique and exciting world that is unlike any other in animated television. At the center of the show is BraveStarr, who is voiced by Charlie Adler. Adler delivers a compelling performance, imbuing the character with a stoic and honorable personality that makes him instantly likable.
BraveStarr is not alone in his adventures, as he is assisted by his trusty sidekick, Thirty/Thirty, a half-human, half-horse creature that provides much of the show's comic relief. Thirty/Thirty is voiced by Pat Fraley, who brings a sense of fun and adventure to the character.
The show also features a cast of memorable villains, each with their own unique personality and nefarious plans for New Texas. The most notable among them is Tex Hex, a cowboy-like character who serves as BraveStarr's arch-nemesis. Tex Hex is brilliantly portrayed by Alan Oppenheimer, who gives the character a sinister and menacing personality that makes him one of the most memorable villains in animated television.
The other cast members also deliver terrific performances, each bringing their own unique voice and personality to their respective characters. Ed Gilbert voices the wise old mentor Shaman, who provides guidance to BraveStarr whenever he needs it. Susan Blu voices J.B. McBride, a human marshal who works alongside BraveStarr to keep New Texas safe. Erika Scheimer and Lou Scheimer provide additional voice work for various characters throughout the show.
Throughout the series, BraveStarr and his allies battle against various threats to New Texas, including forces of nature, rogue outlaws, and even extraterrestrial invasions. Each episode is filled with action, adventure, and excitement, making BraveStarr one of the most entertaining and memorable animated shows of its time.
What sets BraveStarr apart from other animated shows of its era is its unique blend of western and science fiction themes, as well as its use of Native American culture and mythology. The show tackles important themes like diversity, tolerance, and the importance of family and community, making it a show that not only entertains but also educates.
Overall, BraveStarr is a must-watch for fans of animated television. With its compelling characters, exciting action sequences, and unique blend of genres, it is an unforgettable experience that will stay with viewers long after the final credits roll.