F2: Forensic Factor
"F2: Forensic Factor" is a crime documentary show that delves into the in-depth process that law enforcement uses to solve many brutal crimes. The process begins after a crime has been reported to law enforcement and the crime scene investigators go out to the scene. Carefully gathering potential evidence, plus taking photographs as an investigation tool. Another line of investigation begins when the medical examiner performs an autopsy on the victim to find out the cause of death at the local morgue. Understanding victimology is part of the process that investigators use to solve each case.
Each criminal case when murder is involved is divided into several points in the investigation. Motive is the key understanding on why a crime is committed and can fall into several different categories. Three of the main categories are Money, Love and Revenge to name the multiple factors that could lead to homicide. Other cases that involve multiple murders have their own special circumstances that include a profile of serial killers and their motivations for murder. When all of the pieces fall into place, investigators can solve a case whether it takes a few months or after many years of investigation regarding cold cases.
"Investigation Discovery" is part of the family of the Discovery Networks that provide informative programing to the national viewing public. Though many of the viewers of this program are advised to discretion for younger viewers, because of the mature subject matter. This program is part of the leading trend for educating the public on forensic techniques, also the public can come forward with information to law enforcement regarding certain cases as an appeal. Short videos of this program are available on the Internet for online access anytime. Tune in to "Investigation Discovery" and see what all of the buzz is about behind the yellow tape.
Saturday 10:00 PM et/pt on Discovery Channel

1 Season,

6

Episodes

January 3, 2003

/

10

Cast:

John Robinson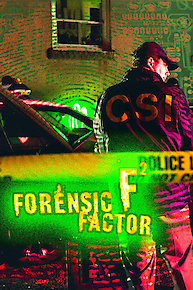 F2: Forensic Factor Full Episode Guide
A vivacious teenage girl is found brutally stabbed to death in her car in a small Pennsylvania city. The motive is elusive; she wasn't sexually assaulted, and she was happy and popular. But as police look closer, they discover she was involved in a shocking love triangle that breaks all the rules. When the suspects' stories overlap and raise more questions than they answer, investigators turn to forensics to separate the lies from the startling truth. One tenacious detective goes to surprising lengths to obtain that evidence, and in the end, in a dramatic twist, it's the victim herself who gives police what they need.

Episode

5

-

The Abbotsford Killer

A series of seemingly random shootings have terrorized the city of East Point, Georgia, just outside Atlanta. Police are baffled as to the killer's motive, how he is choosing his victims and when he will strike again. Apart from leaving behind taunting messages, mysteriously signed "JACK", the shooter leaves behind little evidence. And investigators are baffled as to why he always seems to be one step ahead of them. As the citizens of East Point hide behind locked doors, the police use every forensic trick at their disposal to unmask this brazen killer and bring him to justice.

Episode

2

-

Shopping Spree Murders

Fear takes hold of a sprawling upscale gated community in California with the murders of several elderly women. Cases linked by little other than no visible signs of forced entry, use of telephone cords, extremely violent deaths and ransacked purses; the investigators are stumped as they try to determine a motive. After questioning - and releasing - transients, gardeners, security guards and handymen, the detectives finally get a break in the case when stolen credit card receipts point to an unlikely - and shocking - suspect.

Episode

1

-

Million Dollar Murder

When Horseshoe Bay police discover a multi-millionaire playboy brutally slain in his posh Texas mansion, they are immediately puzzled as to why anyone would sadistically murder the popular local resident. To solve their mystery - and find the killer -investigators are forced to navigate through a wide circle of friends - a circle that includes rich CEOs, celebrity athletes, movie stars, and a bevy of sexy strippers. In their search for forensic clues, investigators dig deep in the heart of Millionaire's Row, uncovering x-rated photos, shocking videos, and a mysterious object hidden deep in the victim's body.
If You Like F2: Forensic Factor, Then Try...