General Hospital: Night Shift
General Hospital: Night Shift is a drama series that aired in 2007. General Hospital: Night Shift was a spinoff of the long running daytime television series Soap Opera. General Hospital: Night Shift ran as a prime time television series, and attempted to get away from many of the soap opera story arches that distinguished its parent show. The series follows a team of doctors as they take care of critical patients during the night, and as they deal with their various interpersonal problems. General Hospital: Night Shift ran for two series with the first series being considered the most watched soap opera of all time.
2 Seasons,

27

Episodes

July 12, 2007

/

10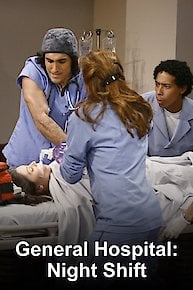 General Hospital: Night Shift Full Episode Guide
Episode

14

-

Past and Presence 2

Episode

13

-

Past and Presence 1

With Robert having slipped into a coma his former friends Luke, Sean and Tiffany appear in his dream. Claire makes a decision about her future at the hospital. Kyle is forced to say goodbye to Eric when Eric leaves for Portland to have treatment that could help him get better. Jagger finds himself with a fight on his hands to keep custody of Stone. Robert comes out of his coma. An explosion rocks the hospital.

Episode

12

-

Truth and Consequences

Anna attempts to find out more about her ex husband's condition. Saira tells Robin about Leo sleeping with Claire. Patrick is blamed after the hospital is put in danger after he threw a racist patient out. Kyle is forced to be honest with Eric's father about his chances of survival. Monica tries to help Patrick. Robert and Anna talk about their past adventures. Kyle and Eric grow closer. Saira clashes with Leo about him and Claire. Robert slips into a coma.

Robin finds her father passed out in his room. Claire tells Leo she was wrong to sleep with Leo. The hospital team find themselves having to deal with racial problems at the hospital. Kyle asks Leo if he has told Saira about sleeping with Claire yet. Anna Devane stops by to see her ex husband Robert after he requires more surgery. When Saira asks Claire if she slept with Leo she admits that she did.

Episode

10

-

Brothers & Sisters

Leo and Kyle are surprised by a visit from their mother. Kyle develops in an interest in a patient called Eric. Claire tells Kyle that she slept with Leo and Kyle punches his brother. Robert sees Robin in a new light. Patrick finds himself in a situation that he can't win.

Stone is taken to the hospital following a seizure. With Robin being preoccupied with her father and Jagger's problems, Patrick feels left out. Claire tells Leo that them sleeping together was a mistake and that they should keep it a secret. Leo and Saira share a kiss which Claire witnesses. Claire tells Leo that she cant believe he cheated on Saira with her and he tells her as long at they keep quiet everything will be fine. Robin gives Jagger to pay for a therapist for Stone.

Episode

8

-

Pay It Forward

Jagger is asked by the FBI to investigate the organ selling racket happening at the hospital. Things continue to be difficult for Robert. Leo and Saira discuss their relationship. Robin is surprised to see Leo and Saira together. When Claire gets drunk Leo tries to comfort her and they end up sharing a kiss.

Episode

7

-

Listen to My Heart

Mac pays a visit with his brother. Robin is forced to make a difficult decision about her father who needs immediate surgery. Claire is approached by a former school colleague called Ryan. Jagger attends a meeting for parents with autistic children. Leo and Saira put aside their personal problems to help a patient who is due to get married. It is discovered that Ryan has four kidneys and he then wants Claire to help him find a donor who is willing to pay to buy two of them. Claire tells Ryan that it is illegal to sell organs but Ryan is determined to auction them off.

Episode

6

-

Playing With Fire

Patrick sees Robin's HIV in a new way after dealing with a quarantined couple. Leo is jealous of how close Saira is becoming to Jagger. Kyle isn't impressed when Claire joins an Internet dating website so that she can find them both dates but it manages to find him a date. Robert's health takes a turn for the worse.

Episode

5

-

Family Values

Robin isn't happy when Robert wont agree to the treatment he needs. Patrick, Leo, and Claire treat two female patients brought in who were trapped in a fire in a house. Leo's actions impress his brother. Saira is given consent by Jagger to treat Stone. Toussaint and Claire are shocked when somebody they thought was dead starts talking. Robin is happy when her father agrees to stay at the hospital.

Episode

4

-

We'll Always Have Paris

Patrick is attacked by a French lady called Danielle. Robert receives some upsetting news from his daughter. Toussaint and Epiphany enjoy their date together. Kyle has to teach sex education to some students.

Episode

3

-

Fallen from the Sky

Robin is surprised when her father shows up in the emergency room as a patient after he is involved in a plane crash. Toussaint and Epiphany wonder if a relationship between them would work. Leo and Saira both try and deny the attraction they feel for each other.

Episode

2

-

Other People's Children

Robin pulls out all the stops as she tries to find a donor for a sick child. When a drunken patient makes a play for Claire she is more interested in his friend. Leo and Kyle attempt to sort the issues they have. Jagger clashes with Robin when they talk about Stone Jr.

Epiphany is surprised when Toussaint shows up to be interviewed for an orderly's job. Dr. Ford is killed and Robin is knocked over when a car crashes into the hospital. Patrick is made the new temporary Chief of Staff following Dr. Ford's death. Jagger Cates returns to Port Charles. Some new interns at the hospital start work on the night shift.
Two rival Port Charles gangs bring their war into the hospital. Following a shoot out several lives are left in danger. Jolene is caught by Jason with a syringe in her hand. Patrick attempts to convince Robin that he still cares about her. When more shots are fired Jason tells everyone to get behind the desk.

Episode

12

-

What Becomes of the Broken Hearted

Jolene targets Toussaint as her next victim and he flatlines whilst having surgery and sees his life's history flash before his eyes. Lainey is arrested by Mac for the mercy killing of her dad. When Jason tells Damion that Jolene could be a killer he refuses to believe it.

Episode

11

-

Fools in Love

Jason learns from that Jason that she wont give up on the baby. Lainey shares her fears with Cody. Toussaint gets some bad news from Patrick. Patrick admits to Robin that he has slept with Leyla.

Episode

10

-

Falling Star

The man who fathered Stacey's baby is revealed. The night shift try to help deliver the baby of a pregnant girl. Cody helps Jason in a difficult situation.

Robin and Patrick disagree over Stacey's daughter. Jolene asks Jason on a date. Meanwhile, Lainley's father undergoes surgery.

Episode

8

-

Employee of the Month

Dr. Julian breaks the news to Maxie about her heart. Jason comforts Robin after she is confronted by Patrick.

Toussaint continues to investigate the elevators, but while working on them, he begins to get dizzy. Once the power to the elevator is turned back on, Stacey is rushed to the ER and Jason is yelled at for having to perform surgery on Stacey.

Episode

6

-

Love's Labors

Stacey goes into labor in the elevator and receives help giving birth from an unlikely source. Regina tells Jolene a deep secret and Toussaint uncovers that the elevator getting stuck was no accident.

Episode

5

-

Bed, Bath and Be Gone

Maxie's health deteriorates quickly, and Georgie makes a comment to Maxie that she instantly regrets. Meanwhile, Robin sees Patrick and Leyla together; Kelly is informed that she's being sued for sexual harassment; and Spinelli has to face his biggest fear -- clowns.

Episode

4

-

Keep the Change

Episode

3

-

Paternity Ward

When Elizabeth is needed to help out in surgery Jason gets the chance to spend some time alone with his son. When Patrick attempts to help a young man with a troubled past it reminds him off his own past. Lulu is introduced to Jolene by Damian.

Leo makes a major mistake whist at work which sees his future as a doctor put in danger. Stan's actions upset Epiphany.

Episode

1

-

Frayed Anatomies

Robin and Patrick start their first night shifts at the hospital as punishment for breaking hospital rules. Jason and Damian are brought to the hospital following a shooting. Maxie finds herself being caught in a compromising position with Coop by Ms. Sneed. Mac isn't happy when he sees Maxie with Coop.