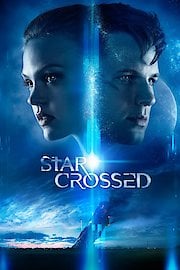 Watch Star-Crossed
TV-14
2014
1 Season
Star-Crossed is an American science fiction romantic drama television series created by Meredith Averill and premiered on The CW on February 17, 2014. The show stars Aimee Teegarden as Emery Whitehill, a teenage girl who falls in love with an alien boy named Roman (Matt Lanter) when his people, the Atrians, are integrated into a suburban high school ten years after their spaceship crash-landed on Earth.
The series takes place in a world where aliens have been secretly living on Earth for a decade after their spaceship crash-landed in a small town in Louisiana. The integration of the alien species known as Atrians into human society is a polarizing issue, with many humans fearing and discriminating against them, while others advocate for their equal rights.
Emery, a human girl who was present during the crash landing as a child and survived a life-threatening illness, becomes drawn to Roman, an Atrian boy she met as a child but was forced to leave behind. When the Atrians are finally allowed to attend a human high school, Emery is shocked to discover that Roman is a student at her school.
As Emery and Roman begin to reconnect, they must navigate the challenges of their inter-species relationship in a world that is still grappling with alien integration. They are further complicated by their respective parents: Emery's mother, who is overprotective due to her daughter's past illness and trauma, and Roman's mother, who is the leader of the Atrian community and has her own agenda.
The show also features a diverse cast of characters, including Emery's best friend Julia (Malese Jow), who is passionate about Atrian rights, and Grayson (Grey Damon), a human boy who is romantically interested in Emery but is also a member of a right-wing anti-Atrian organization.
Star-Crossed explores themes of prejudice, discrimination, and identity, as well as the complexities of first love and inter-species relationships. The show has a unique blend of science-fiction and romance, combining the otherworldly elements of the Atrians with the grounded high school drama of Emery's social circle.
The show received mixed reviews from critics, with some praising its diverse cast and thought-provoking themes, while others criticized its formulaic teen drama structure and lack of originality in its sci-fi elements. Despite gaining a devoted fanbase during its run, Star-Crossed was cancelled after one season due to low ratings.
In addition to Teegarden, Lanter, Jow, and Damon, the show also featured supporting performances from Titus Makin Jr., Greg Finley, and Natalie Hall, among others. The series was produced by CBS Television Studios and filmed in Louisiana.
Overall, Star-Crossed is a compelling and emotional sci-fi romance that explores timely social issues through the lens of a high school drama. While it may not have been groundbreaking in its execution, it is a solid addition to The CW's legacy of teen dramas with a sci-fi twist.
Star-Crossed is a series that is currently running and has 1 seasons (13 episodes). The series first aired on February 17, 2014.