Jacob and Joshua: Nemesis Rising
Jacob and Joshua: Nemesis Rising is a reality television show about twins. These twins comprise the music group Nemesis. While they are twins, these are two separate people. They have their own lives and personalities. One is outgoing, a popular party boy. The other tends to stay at home and is focused on his career. They may be opposites but they still work together through their music.
This reality show follows these twins through their very separate lives. They are opposites and yet have formed a music group and are working their way up in their mutually chosen career of music.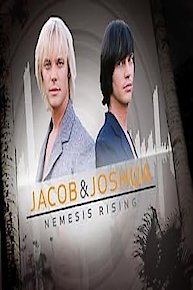 Jacob and Joshua: Nemesis Rising Full Episode Guide
Episode

7

-

HRC, TRL, and Beyond

Nemesis performs at a Human Rights Campaign dinner in Washington, D.C., and appears on MTV's "Total Request Live." Their star is on the rise, but both twins ponder whether their decision to come out will ultimately help or hurt their careers.

Episode

6

-

Barry and Vegas

The twins learn that Barry Manilow will be producing a song for them at a Las Vegas studio. But when the choice of tune puts them off, they turn their attention to the city's gay nightlife and risk a hangover on the day of the recording.

The twins shoot their first music video for the song "#1 in Heaven." Later, when a cover article in The Advocate throws them into the spotlight, Jacob and Joshua each have different reactions to their public image.

The record company pushes the twins to make their first live performance in three years. After a rocky rehearsal, Joshua is reluctant to take the stage, but Jacob can't wait. Once the show starts, however, Jacob is subdued while Joshua shines.

Episode

3

-

Montana and Relationships

As Joshua and Jacob's parents come to terms with their sons' revelation, the brothers reconnect with old friends before leaving Montana. Back home, Joshua is emotionally shaken by the visit, while Jacob and Nick celebrate an anniversary.

Episode

2

-

Coming Out in Montana

Jacob and Joshua return home to Montana, finally ready to come out to their parents. Nervous Joshua considers having Jacob break the news for both of them. Adding to the tension, Jacob has brought his boyfriend, Nick, home to meet the folks.

Episode

1

-

Meet the Twins

Montana-born brothers Jacob and Joshua Miller are a charismatic set of gay twins who couldn't be any more different. Putting their personality clashes aside, they create the rock band Nemesis, and hope they'll make it big in the music business.