King of Dirt
Taking a run down back yard and turning it into the perfect place for the family to enjoy can often be a much harder task than one would think. Between choosing the types of fungi and fauna, yard decor, color schemes, the different materials to choose from, and where and how to put everything in place it can be quite overwhelming.
Some families decide that these tasks are best left to experts. Gino Panaro, also known as the King of Dirt, decided to host a television series about the back yard makeovers he has successfully provided for families. Panaro is a contractor that hails from Staten Island and loves to turn dumpy outdoor areas into beautiful areas that all will enjoy.
3 Seasons,

39

Episodes

April 6, 2009

/

10

Cast:

Gino Panaro

,

Ralph Panaro

,

Gina Panaro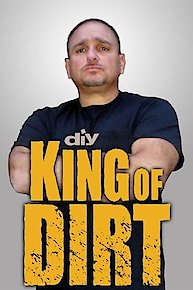 King of Dirt Full Episode Guide
Episode

13

-

When the Lights Come On

Mindy's gorgeous home is hidden by overgrowth and an old walkway. Gino plans to remove everything and start from scratch.

Episode

12

-

Fireplace Surprise

Nish and Falgun love their brand new home, but their yard leaves room for embarrassment.

Episode

11

-

Ralphie Drives

Episode

10

-

Stuck on You

Brian and Jen are happy in their new home, but the boring builder landscape in the front of their house has them feeling like they need a makeover.

Episode

9

-

Back From the Dead

Celso and Teresa have a huge newly constructed home they've been in for only a few years with their kids. However, the front yard doesn't match the beauty of the home. With a fried lawn that consists of rocks and dirt, a narrow builder walkway and no landscaping to speak of, this couple is looking to be brought back to life.

Episode

8

-

Monster Patio

Episode

7

-

Landscaper That Stung the Hornet's Ne...

Gino's plans to renovate a messy and dangerous front yard are put on hold when a nest of hornets are discovered.

Episode

6

-

The Butterfly Garden

Gino transforms the public area of a children's hospital into a butterfly garden to honor the memory of a youth named Joey.

Episode

5

-

Thanks Very Mulch

Charlie and Monica already had someone build a patio and landscape their backyard a few months ago. The only problem is the guy jumped ship halfway through the job. If there's one thing Gino hates to see, it's a generous yard that's been mismanaged by a lazy landscaper.

Episode

4

-

The Garden of Evil

Jerry and Maryann have a gorgeous home in Staten Island. The only problem is that their backyard has turned into a swamp, complete with its own lagoon.

Episode

3

-

The Wasteland

Steve and Jessica have a wasteland in their backyard and with a 3-year-old daughter, an unsafe outdoor area won't do. Gino hopes to give these homeowners a safe enjoyable area.

Episode

2

-

Hit the Road Jack

Giorgio and Jennifer knew what they were in for when they purchased their current home, but now, they are ready to make some changes. Their backyard has an aggressive slope transitioning into a highway and they're forced to eat off of patio furniture that sits on overgrown grass. Gino disapproves of all of this and decides to help this couple have a yard they can enjoy.

Episode

1

-

The Neverending Landscape

Gino becomes involved with a project that has seen many delays. Homeowners Nunzio and Deb are anxious to get their yard finished so they can start using their new pool before the summer is over!
Episode

13

-

Soldier Course

Greg and Lisa's sad attempt at landscaping consists of a potted banana plant and no logical way to enter their home. The only thing they have worth keeping is a beautiful Japanese Maple, planted randomly in the middle of their yard. Gino incorporates the tree into his design, which also includes a sprinkler/drip system, a new lawn, and a paver walkway.

Episode

12

-

Driveway to Nowhere

Michelle and Marty have just finished renovating their home and it has taken a toll on their driveway and landscape - both of which are a mess. Gino brings in some additional assistance, and together with Ralph and Gina they remove all of the old weeds and tree stumps, replace them with a terraced garden, and finish the job off with a brand new asphalt driveway and parking area.

Episode

11

-

Huge Paver Patio

Bryan and Christine have a gorgeous in ground pool in the middle of a massive backyard - but they have to walk across a dirty yard just to get to it. Gino will have to battle a broken skid steer and a mysterious little insect to give Bryan and Christine the biggest paver patio he's ever built, along with some gorgeous plants and a new chain link fence.

Episode

10

-

Frugal Driveway Facelift

Earl and Diana are soon-to-be newlyweds, and they want their front yard to look as good as they will on their wedding day, so they call in Gino's Crew. Gino will address their weedy lawn and lack of plants. But first, he's got a simple tip for giving distressed asphalt a cheap makeover.

Episode

9

-

Retaining Memories

The D'Alessandros want to remake their front yard's landscape, but with one condition - Mr. D'Alessandro's recently deceased father helped them to build the current block wall, so they want to keep part of it to retain that memory. Enter Gino's Crew. With the help of Gina and Ralph, Gino will transform the front yard from a "homeowner attempt" at landscaping into a professional paradise, complete with an array of unique plants, a new set of drain pipes, and a lesson in overwatering your lawn.

Episode

8

-

Stepping it Up

Guy and Peg have made several attempts at landscaping their own backyard and building a patio and steps into their house, but all they have to show for it are a set of rickety wooden steps and a yard filled to the brim with potted plants. Gino is called in to give them a gorgeous paver patio complete with walkways to the gate, the garage and the outdoor shower. He'll compliment the new patio with foundation plants, a water feature, and he'll trim back the neighbor's tree to make sure his work can be seen in the light of day.

Episode

7

-

When a Tree Falls in the Yard

Paul and Kimberly have s shade problem. Three massive trees prevent any sun from shining down on their yard, and the yard itself isn't much to look at. They call in Gino and Crew to get rid of the trees, build a marble tile patio, and provide a gorgeous landscape and new shed so that their yard has both style and function.

Episode

6

-

Creature from the Deck Below

Joe and Antonella call in Gino to make over their back yard. The plan is to tear out the massive old deck, make over their burnt lawn, and provide a fresh start with new plants. But when the crew discovers a swamp - and a swamp creature - living under the deck, they find themselves with a whole new problem.

Episode

5

-

The Skid Won't Steer

Elliot and Lorraine were abandoned by their landscaper, and he left them with a big mess - a half build patio space, a muddy mess, and no plants. Enter Gino and his Crew, who will build them a gorgeous paver patio and solve their drainage issues. But when the crew's skid steer - Gino's most important piece of machinery - won't start, it threatens the entire project.

Episode

4

-

Gino Takes a Dip

Gino and Co. are called to Staten Island, where Joe and Sue have just installed an above ground pool - below ground. Now it's up to Gino's Crew to make the pool look as good as a real in-ground pool, while surrounding it with all the trimmings of a tropical oasis - and without falling into the pool.

Episode

3

-

Gino for President

The Rosenbergs ask Gino for a simple landscape renovation. After taking care of their overmulched planting beds and weed problem, Gino nearly breaks his own truck, then deals with the sloppy paver walkway left behind by the Rosenbergs' previous landscaper.

Episode

2

-

The Root of the Problem

A routine foundation planting for longtime clients the Wassersteins turns into a big headache, as Gino and Ralph uncover a massive buried root system that threatens to derail the job. Gino brings in some backup with a backhoe to try and get the roots out without taking the whole front porch with them.

Episode

1

-

The Japanese Maple

Gino's friends the Evolas have a gorgeous home - except for their front yard. Everything is overgrown. You can barely see a house behind all the shrubbery. Gino brings in an arborist to transplant the Evolas prized Japanese Maple, and replaces everything else with a gorgeous landscape.
If You Like King of Dirt, Then Try...