Watch La Tempestad
La Tempestad (Spanish for The Tempest) is a Spanish-language telenovela, chronicling the love story between Marina, an attractive corporate executive and Damian, a handsome, daring fishing-boat captain. The story takes place in modern day Mexico, in a fictitious seaside community. Marina's mother moves there for her health and Marina is forced to go with her and accept a job at the local cannery which Damian's boat, La Tempestad, supplies with merchandise.
Unbeknownst to Marina, Mercedes, the woman who hired her, is actually her biological mother. Forced to give up her children (Marina has a twin sister) at birth, Mercedes has spent a lifetime building an empire and acquiring the resources she needs to locate and recover her daughters. This search will bring her close to various town residents who are involved in the unsavory business of human trafficking. One of them is Fulgencio, the town's mayor, whose daughter Esthercita thinks she's in love with Damian. Another is Hernan, Marina's fellow cannery executive and an old friend from school .
Put off by each other at first, Marina and Damian will first learn to work together, then find themselves falling in love, as they are caught in a maelstrom of intrigue, deceit and tragedy.
1 Season,

80

Episodes

July 29, 2013

/

10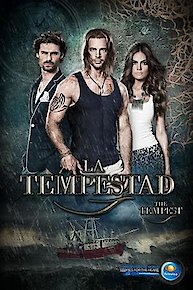 La Tempestad Full Episode Guide
Hernan escapes from the hospital and kidnaps Marina but Damian saves her and Hernan resigns. Marina and Damian finally get married and are happy with their kids.

Hernan is sentenced to 110 years confined in a psychiatric hospital. Beatriz says goodbye to Marina. Esthercita kidnaps her son and she decides to suicide.

Damian finds Marina and Hernan. Then threatens him at gun point. But then commander Robles decides to arrest him. Damian proves Esthercita's deception to everyone.

Esthercita ends her relationship with Ernesto Contreras. Mercedes and Jose are attacked by a group of armed men. Hernan forces Marina to marry him.

Marina has a very complicated birth labour and her child seems to be dead. Ursula steals the documents that incriminate Fulgencio.

Mercedes is forced to give Hernan the factory. Esthercita proves to Marina that she spent the night with Damian.

Hernan causes that Marina and Magdalena meet. Esthercita drugs Damian to spend the night with him.

Hernan asks Ursula to show him her love by killing Zuli. Marina talks Mercedes. Magdalena pretends to be Marina and kisses Damian.

Mercedes confesses the truth to Marina. Fulgencio tells Mercedes that he will always love her.

Damian gets the document for the divorce, but Esthercita menaces again with taking away her son. Magdalena demands Mercedes to tell Marina the truth.

Delfina begs Marina to get away from Damian for the fate of the child. Damian tells Esthercita that he accepts living with her.

Esthercita asks Fulgencio for help to get Ernesto's fortune. Marina is surprised to see the reaction of Beatriz when Hernan approaches.

Hernan plans a car accident in order for Marina to lose her baby. Magdalena discovers that she has a twin sister.

Beatriz suffers a cerebral embolism and Marina is devastated, Damian offers all of his support to her. Marina confesses to Damian that she is pregnant.

Hernan convinces Marina to go with him on a trip, but Damian tells Marina that if she leaves with him then she will end their relationship.

Hernan plans a gossip in the newspaper and Damian falls into his trap. A man tries to abuse Ursula and Damian rescues her.

Esthercita gives Damian an ultimatum when she takes custody of their son.

Damian asks Mercedes to help him so he can pay the ransom to save his son. Marina discovers she is pregnant.

Esthercita interrupts Dami'án and Marina's wedding. Fulgencio finds out that Esthercita is Ernesto's widow.

Damian proposes marriage to Marina in a very special way. Esthercita and Ernesto have a male child which interferes with Hernan's plans.

Beatriz suffers a crisis and is in danger of death. Hern'án convinces Rebecca to tell him where Marina is so he can go get her.

Beatriz suffers a crisis and is in danger of death. Hernan convinces Rebeca to tell him where Marina is, in order to go look for her.

Dami'án and Marina enjoy an unforgettable trip where they renew their love. Magdalena finds out she has a sister.

Damian swears to Marina that he will do anything possible to regain her love. Hernan loses control with Marina's rejection and yells that she belongs to him.

Marina discovers the kind of man who Hernan is and decides to end their engagement. Damian is desperate because Eusebia is on the verge of death.

Dami'án begs Marina for forgiveness at her engagement party with Hern'án. Ernesto is ready to make Mercedes suffer and leave her bankrupt.

Hern'án asks Marina to marry him and she accepts. Dami'án gets out of jail thanks to Mercedes' support.

Fulgencio kills Mayuya so that she doesn't give away his secret. Dami'án gets in trouble while being locked up.

Damian is the victim of a cruel attack and his life is in danger. Hernan promises Esthercita to help her remember her past.

Marina goes to jail to tell the Captain that she gave a chance to Hernan. Esthercita remembers her name and wants to know more about Damian.

Hern'án convinces Marina to fake they are engaged to protect her from the people of the town. Dami'án faces the prison's cruelty.

Mercedes was able to overcome all of Hern'án's obstacles to show her proof. Esthercita is pregnant with Ernesto's child.

It's time for Dami'án's trial and Fulgencio does everything to prove he is guilty. Mercedes finds proof that can lead to the Captain's freedom.

Marina tells Hern'án that they need to end their partnership. Beatriz complains to Dami'án for having broken Marina's heart.

Mercedes confesses to Magdalena that she is her mother, but she rejects her. Dami'án ends his relationship with Marina for good and tells her to go away.

The people from the town blame Marina for corrupting the Captain. Damian tells Marina they need to be apart so that she doesn't suffer because of him.

Fulgencio acusses Dami'án for Esthercita's death and he is taken to jail. Mercedes finds her daughter, Magdalena, but she is very ill.

Marina and Dami'án finally unleash their passion. Hern'án threatens the Captain and tells him that he won't let him marry Marina.

Hern'án finds out that Esthercita is alive and now is Ernesto Contreras' wife. Dami'án asks Marina to marry him.

Beatriz asks Captain Fabre to stay away from Marina, because she deserves better. Marina and Dami'án escape in order to enjoy their love.

Hern'án convinces Beatriz to join forces in order to separate Marina from the Captain. Mercedes meets up with Magdalena, her lost child.

Dami'án is getting better. Esthercita's memory is still lost and she is afraid of the water.

Dami'án gains consciousness. Macario buys Esthercita and gives her to Don Ernesto.

Dami'án gets back alive but in delicate conditions. Hern'án sends his men to kill the Captain.

Marina sails on La Tempestad looking for Dami'án. Eusebia calms down when Marina tells her that the Captain is alive.

Esthercita warns Dami'án she will seek revenge on Marina if he rejects her. Beatriz finds out she has a tumor and will die.

Dami'án decides to forget Marina and goes with Esthercita on their honeymoon. Rebeca convinces Marina to fight for what she loves before it's too late.

Hern'án confesses to Fulgencio that he will work with Marina in order to get more business. Dami'án tells Marina that she has to accept that he owns her.

Captain Fabre confesses to Marina that he had never been so afraid of losing her. Dami'án tells Esthercita that they should get a divorce.

Hernan gives the order to fire the baler without knowing Marina is inside, Damian risks his life to save her.

Captain Fabre promises Marina he will get a divorce and will look for her when he is free. Mercedes asks for help to find her other daughter.

Captain Fabre catches up with Marina at La Tempestad and tells her he loves her. Hern'án offers Esthercita to take her to look for Dami'án.

Dami'án keeps his promise and marries Esthercita. Mercedes worries Marina will reject her when she finds out she is her real mother.

It is Esthercita and Dami'án's wedding and the entire town is present to witness this event. Captain Fabré is with Marina at the Tempestad and follows her orders.

Hern'án orders to put explosives where Dami'án and Esthercita will spend their honeymoon. Marina and Dami'án have fun at his bachelor party.

Capitan Fabre is decided to leave the baler. Damian gives the engagement ring to Esthercita.

Hern'án serenades Marina and kisses her while Dami'án watches from afar. Fulgencio cancels Esthercita and Captain Fabre's wedding.

Dami'án confesses to Marina that she has stolen his heart and asks her to accept his love. Fulgencio and Hern'án are willing to get rid Captain Fabre.

Dami'án and Captain Frabé fight over Marina.

Hern'án confesses Marina his love for her and asks her to marry him. Eusebia tells Marina secrets from her past.

Marina gets jealous when she sees Esthercita kissing Captain Fabré. Hern'án is willing to do anything to seduce Marina.

Mercedes is willing to do anything until she finds Magdalena. Marina confesses to Beatriz that she was wrong in judging Captain Fabré.

Marina takes care of Captain Fabre and he confesses that she confuses him. Hernan goes to La Tempestad to look for Marina.

Hern'án's men attack 'La Tempestad' and Captain Fabré protects Marina. Fulgencio is against Esthercita marrying Dami'án

Damian asks Delfina for Esthercita's hand in marriage. Marina is willing to do anything to bring Captain Fabre down.

Marina offers Dami'án a way to get out of prison. Esthercita gets drunk and confesses the truth to everyone.

Marina challenges Damian, but he humiliates her in front of all the employees. Fulgencio accuses the Captain for having raped his daughter so he is arrested.

Marina meets Captain Damian Fabre and they instantly hate each other. Marina's old friend appears in her life again.

Mercedes offers Marina a great job opportunity but warns her about the types of problems Captain Fabre could bring her.
If You Like La Tempestad, Then Try...