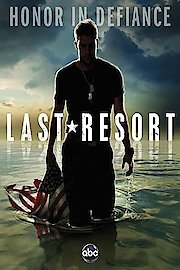 Watch Last Resort
TV-14
2012
1 Season
Last Resort was a thrilling American military drama series that aired on ABC between September 2012 and January 2013. Created by Shawn Ryan and Karl Gajdusek, the show starred Emmy-winning actor Andre Braugher as Captain Marcus Chaplin, a highly-respected commander of the USS Colorado, a ballistic missile submarine.
The story of Last Resort begins when the crew members of the USS Colorado received an order to launch nuclear missiles against Pakistan. However, when Captain Chaplin questioned the authenticity of the order, he and his crew found themselves the targets of an attack. Seemingly betrayed by their own government, the crew of the submarine decided to take refuge on a small island in the Indian Ocean called Sainte Marina, where they declared themselves an independent nation.
As the crew figures out how to establish their new society, they must also deal with a host of internal and external threats. Captain Chaplin must keep his crew together and fend off hostile forces from both the United States and other nations who are determined to prevent the formation of a new country. The crew must navigate through dangerous missions, protect their loved ones, and fight for their survival in the face of seemingly insurmountable obstacles.
One of the key themes of Last Resort is the struggle of conflicting ideals and priorities, as the crew members must decide between their loyalty to their country, their duty to the new nation, and their personal beliefs. The show also tackles issues of leadership, trust, and sacrifice, as the crew must navigate through their new reality and determine who to trust, who to follow, and what sacrifices they are willing to make for their new home.
The amazing ensemble cast of Last Resort features talented actors such as Scott Speedman, Daisy Betts, Camille De Pazzis, Daniel Lissing, Sahr Ngaujah, and Autumn Reeser, to name a few. Each character has a unique backstory, personality, and motivation, and the interactions between them are expertly crafted to keep the viewers engaged and invested in their stories.
The show also boasts a cinematic quality that adds to its intensity and immersiveness. The spectacular underwater scenes, the breathtaking landscapes of Sainte Marina, and the intense action sequences are all expertly executed, making Last Resort a visually stunning experience.
Despite its critical acclaim and fan following, Last Resort was canceled by ABC after one season due to low ratings. The cancellation was a shock to fans and cast members alike, who had hoped for the show to continue and explore the many unanswered questions and plotlines set up in the season finale.
Overall, Last Resort is a gripping and thought-provoking series that explores complex themes, features compelling characters, and showcases stunning visuals. It is a must-watch for fans of military dramas, political thrillers, and intense action shows.
Last Resort is a series that is currently running and has 1 seasons (13 episodes). The series first aired on September 27, 2012.