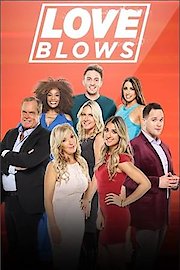 Watch Love Blows
Love Blows is a reality television show that premiered on We tv in 2019. The series follows the lives of professional matchmakers who run their own dating agencies in Chicago. It explores the ups and downs of their personal and professional lives as they navigate the business of love and try to find their own happy endings.
The show features several matchmakers, including Lisa Galos, a former lawyer who gave up her career to start a matchmaking agency called Chicago Matchmaker; Steven Ward, a celebrity matchmaker who starred in the reality show Tough Love; and Lori Zaslow, a matchmaker who co-owns a boutique matchmaking service called Project Soulmate.
Each episode of Love Blows centers around a client who comes to one of the matchmaking agencies looking for love. The matchmakers review their profiles and preferences, and then set them up on dates with potential matches. The clients provide feedback on their dates, and the matchmakers use this information to continue refining their search.
The show also explores the personal lives of the matchmakers, who are all single and looking for love themselves. Lisa is a divorced mother of two who struggles to balance her work and personal life. She's in a long-distance relationship with a man in California, but worries that they may never be able to close the distance. Steven is a workaholic who's been single for several years. He's hesitant to open up to love because of the pressure he feels to be a perfect matchmaker. Lori is a divorced mother of two who's ready to find love again. She's dating a man named Tarek, but worries that he may not be ready for a serious relationship.
Throughout the series, the matchmakers face various challenges in both their personal and professional lives. They have to deal with difficult clients who don't know what they want, and who may not be ready for a serious relationship. They also have to juggle their work schedules with their personal lives, often missing family events and social engagements because of last-minute matchmaking emergencies.
Love Blows also explores the relationships between the matchmakers themselves. They're all in a competitive industry, and there's often tension between them. However, they also rely on each other for support and advice. They gather together at a local bar to commiserate about their dating woes, and to share stories about their clients.
The show is shot in a documentary style, with no scripted scenes or dialogue. The matchmakers and clients are not actors, and the dates they go on are real. This adds to the authenticity of the show, and gives viewers a glimpse into the inner workings of the matchmaking industry.
Overall, Love Blows is a captivating look at the world of professional matchmaking. It's equal parts heartwarming and heartbreaking, as the matchmakers strive to help others find love while also struggling to find it themselves. It's a show that will make viewers laugh, cry, and root for the underdogs.
Love Blows is a series that is currently running and has 1 seasons (6 episodes). The series first aired on August 25, 2017.