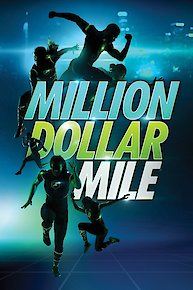 Million Dollar Mile Full Episode Guide
Episode

9

-

I Was Born Ready For This

In the season finale, a Harlem Globetrotter attempts to run circles around her opponent, while the undefeated "Harvard Hammer" faces two runners in the same night.

Episode

8

-

I'm Going All the Way Tonight

A Pilates instructor sets out to prove she is "hard core" enough to stand up to a Spartan Race World Champion, and a parkour expert tries to outrun a professional triathlete.

Episode

7

-

I Think He Looks Like a Snack

A Harvard football player and a Harvard medical student go head to head, and a gym rat from Ft. Lauderdale tries to destroy his opponent's perfect record.

Episode

6

-

Let The Race Speak For Itself

A contortionist twists up the competition in her attempt to outrun the globally ranked Spartan racer, and a family man who calls himself "100% Italian Bread" is hungry for a win against "The Machine".

Episode

5

-

The Elite of the Elite

A former women's college basketball player gets a fast break against "The Harvard Hammer," a medical student who holds an All-American title. Also, a self-taught gymnast goes for the gold against "The Beast from the East," one of Russia's leading stuntmen.

Episode

4

-

This Million Is Mine

A father of quadruplets faces "The Captain," a green beret who holds the record for most podium finishes in the Spartan Race World Championships, and a former ballerina goes toe to toe with an obstacle course racing professional.

Episode

3

-

I'm Coming for You

A yoga instructor faces a defender who has competed in 54 triathlons, and Trevor Bell, nicknamed "Spiderman," attempts to outrun "The Sherriff," pound for pound, the fastest man on the planet.

Episode

2

-

No One Can Beat Me

A former college quarterback attempts to outrun the youngest Spartan race winner ever, and a professional dancer goes toe-to-toe with a six-time obstacle course race world champion.

Episode

1

-

Victory is Only a Mile Away

Contestants are given a two-minute head start as they face off against the Defenders, a group of elite athletes whose goal is to defend the million-dollar prize, in the most challenging one-mile course ever designed, in the streets of downtown Los Angeles.