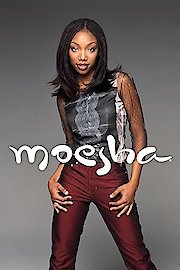 Watch Moesha
TV-PG
1996
6 Seasons
Moesha is an American sitcom that aired on CBS from 1996 to 2001. The show starred Brandy Norwood as the lead character, Moesha Mitchell. She was a high school student living in the Leimert Park neighborhood of Los Angeles, California. Moesha had to navigate challenges in school, including her academics and the social dynamics among her peers. But more than that, the show also explored the complexities of her family life and relationships.
William Allen Young played Frank, Moesha's dad. He was a widowed parent who worked as a car dealership owner. He was a devoted father, but also struggled to balance his responsibilities at work and home. There were often conflicts between him and Moesha, especially as she became more independent and wanted more freedom.
Moesha also had a younger brother named Myles, played by Marcus T. Paulk. Myles was a precocious child who often provided some comedic relief in the show. He was quirky and endearing, and often found ways to get into mischief despite his good intentions.
Throughout the series, Moesha's relationships with her family, friends, and romantic interests were often at the center of the storyline. Her best friends were Kim and Niecy, played by Countess Vaughn and Shar Jackson, respectively. They were always involved in Moesha's business, and had their own unique personalities and quirks that added to the show's charm.
Aside from her family and friends, Moesha also had various romantic interests that kept viewers engaged. One of her long-term boyfriends was Q, played by Fredro Starr. They had a tumultuous relationship that was often marked by misunderstandings and jealousy. Later on in the show, Moesha also dated Hakeem, played by Lamont Bentley. Hakeem was the son of Frank's business partner and was often at odds with Moesha. However, their chemistry was undeniable, and they eventually got together.
Over the course of the show's six seasons, Moesha tackled a range of issues that were relevant to its viewers. It's not just a coming-of-age story, but it also dealt with more mature themes like dating, sex, and drugs. It was a groundbreaking show that tackled issues head-on and provided a nuanced perspective that was often missing from other shows in its genre.
Moesha also had a killer soundtrack that included some of the best R&B and hip-hop songs of the time. Artists like Aaliyah, TLC, and Brandy herself featured in the show, and their music added to the show's overall vibe.
In many ways, Moesha was a trailblazer for other African-American-focused TV shows that followed it. It tackled issues in a way that was authentic and relatable, and provided a platform for young cast members like Brandy Norwood to shine. Even today, the show is still being watched and enjoyed by new generations, and its impact on the landscape of American TV shows cannot be overstated.
In conclusion, Moesha is a classic TV show that tackled a wide range of relevant issues that are still relevant today. Its relatable characters, engaging storylines, and killer soundtrack made it an instant classic that has stood the test of time. It is a must-watch for anyone who loves coming-of-age stories, and is a shining example of what great TV can be.
Moesha is a series that is currently running and has 6 seasons (126 episodes). The series first aired on January 23, 1996.