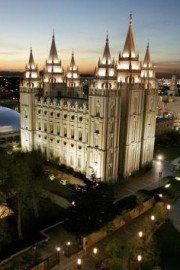 Watch Mormons in America
Mormons in America is a documentary series that explores the history, culture, and beliefs of the Church of Jesus Christ of Latter-day Saints, commonly known as the Mormons. The series, produced by Destination America, takes viewers on a journey through the lives of Mormons, from their origins in the 1830s to present-day America.
Narrated by an expert in Mormon history and culture, the series includes interviews with scholars, historians, and Mormons themselves. It is presented as a balanced and objective exploration of the faith, its practices, and its impact on American society.
Each episode focuses on a different aspect of Mormonism, from its founding by Joseph Smith to its influence on politics, to its attitudes towards race and gender. The first episode introduces viewers to the origin story of the church, outlining the challenges faced by the early Mormons and their eventual migration to Utah. Subsequent episodes delve deeper into the church's teachings, exploring its doctrines, practices, and rituals.
Throughout the series, viewers are given an intimate look at the lives of Mormons in America. We meet families and communities of the faith, learning about their daily routines, beliefs, and traditions. We also see the challenges faced by Mormons in adapting to modern American society, as they seek to reconcile their faith with contemporary values and norms.
Perhaps the most fascinating aspect of the series is the way in which it explores the diversity within the Mormon community. We see the church's conservative and liberal wings, as well as its global reach, with episodes examining the faith in Latin America, Africa, and Asia. We also see the experiences of Mormons who have left the church or challenged its teachings, highlighting the complex and sometimes fraught relationship between faith and identity.
Overall, Mormons in America is a thoughtful and nuanced exploration of one of America's most unique and fascinating religious traditions. It offers viewers an opportunity to learn about the history, beliefs, and practices of the church, while also gaining insight into how Mormons navigate their place in contemporary American society. Whether you are a Mormon or simply curious about this complex and influential faith, this series offers a fascinating look at a religion that has shaped America's past and present.