State of Mind
State of Mind is about therapists and what their job is like. It shows therapists perspectives as well as what their work and home life is like. Some of the therapists seem to have more problems than their actually patients. It shows how therapists interact with their patients.
Sundays at 8:00 pm on Lifetime on Lifetime

1 Season,

8

Episodes

July 15, 2007

/

10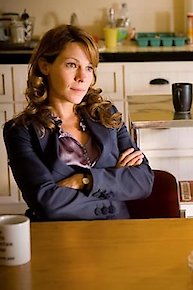 State of Mind Full Episode Guide
James is the one to face his father- he is kicked out of his retirement home for being a nonpaying annoyance. Barry takes on a paralegal from Cordelia's Sunlight Program. Ann's divorce comes through, but she gets some shocking news along with it. Series finale.

Episode

7

-

O Rose, Thou Art Sick

Ann turns to Phil for comfort when her sister visits unexpectedly; Taj agrees to family counseling for his daughter's sake; and James works with a boy who won't speak.

Episode

6

-

In Bocca Al Lupo

Ann contemplates motherhood when a friend asks her to take custody of his daughter if anything should happen to him. Meanwhile, a patient of Cordelia's steps over the line.

Episode

5

-

Helpy Helperpants

Ann suspects Taj's teen daughter has an eating disorder; Barry becomes involved in a custody battle between lesbian parents; and Fred uses the office as a ballroom-dancing studio after hours.

Episode

4

-

Passion Fishing

Ann and Phil fight over the division of their assets; Ann begins to date Cordelia's ex-husband after they have a minor car accident.

Ann counsels a woman who feels guilty for giving her baby up for adoption. Meanwhile, James' ex-wife visits and begins a flirtatious relationship with Taj.

Episode

2

-

Between Here and There

Ann and Phil act like they are still a couple to avoid exposing their failed marriage to Ann's mother; Ann counsels a transgender teen.

Ann hires a new lawyer for the practice to replace her husband and former business partner, whom she caught cheating on her with their couples therapist.
If You Like State of Mind, Then Try...