The Kennedy Center Honors
Kennedy Center Honors is an annual event that honors and profiles individuals and groups that have excelled in the fields of performing arts. The ceremony takes place each year at the Kennedy Center in Washington D.C. Honorees have included participants from the world of music, stage, television, dance, films and news. The selected honorees were picked for a lifetime of work, not one specific performance. Broadcast news legend Walter Cronkite hosted each event until 2003 when Caroline Kennedy began her hosting duties. Each event features the selected artists and oftentimes would showcase their body of work with vintage footage and guest speakers, and also special guests will often perform the works of the selected artists. The sitting president and first lady are also almost always in attendance at the event.
The first Kennedy Center Honors was presented in 1978. The first group to be selected was Marian Anderson, Fred Astaire, George Balanchine, Richard Rodgers and Arthur Rubinstein.
Over the 34 years of Kennedy Center Honors, 178 performers have been featured. Some of the esteemed inductees have been Neil Diamond, Meryl Streep, Oprah Winfrey, Bruce Springsteen, Mel Brooks, Charlton Heston, Stephen Sondheim, Harry Belafonte, Bill Cosby, Lucille Ball, Bob Hope, Neil Simon, Bob Dylan, Stevie Wonder, Mikhail Baryshnikov, James Cagney, Count Basie, Ray Charles, Dizzy Gillespie, Ella Fitzgerald, Perry Como and George Burns.
Several famous couples have been honored as pairs, including married couples Paul Newman and Joanne Woodward and Ossie Davis and Ruby Dee. Peter Townsend and Roger Daltry of the rock band The Who were also honored as a pair. Not all performers who are selected for the honors accept the designation. Katherine Hepburn, Paul McCartney and Irving Berlin all rejected their first invitations to participate, although Hepburn and McCartney later relented, and Berlin was honored posthumously.
The most recent Kennedy Center Honors event aired in December of 2012. The newest group of performers honored was Buddy Guy, Dustin Hoffman, the rock band Led Zeppelin, David Letterman and Natalia Makarova.
39 Seasons,

39

Episodes

December 28, 1978

/

10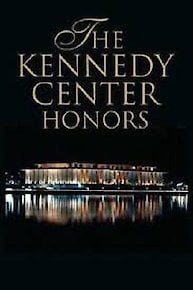 The Kennedy Center Honors Full Episode Guide
Episode

1

-

The 39th Annual Kennedy Center Honors

The 2016 Kennedy Center Honors recipients to be honored at the 39th annual national celebration of the arts are: Argentine pianist Martha Argerich, rock band the Eagles, screen and stage actor Al Pacino, gospel and blues singer Mavis Staples, and musician James Taylor.
Episode

1

-

38th Annual Kennedy Center Honors

The Kennedy Center announced the selection of the six Honorees who will receive the 2015 Kennedy Center Honors. Recipients to be honored at the 38th annual national celebration of the arts are: singer-songwriter Carole King, filmmaker George Lucas, actress and singer Rita Moreno, conductor Seiji Ozawa, and actress and Broadway star Cicely Tyson.
If You Like The Kennedy Center Honors, Then Try...