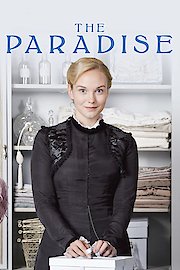 Watch The Paradise
TV-PG
2013
2 Seasons
The Paradise is a British television drama series that aired on PBS from 2012 to 2013. The show is set in the late 19th century and is based on the novel by Emile Zola, Au Bonheur des Dames. It follows the lives of the people who work and visit The Paradise, the first department store in Northern England.
The Paradise is owned by John Moray (Emun Elliott), a charismatic and ambitious entrepreneur who built his empire from scratch. He is a master of retail and is always looking for new ways to improve and expand his business. Moray's right-hand woman is his head of staff, Miss Katherine Glendenning (Elaine Cassidy), a formidable and shrewd woman who is not afraid to use her wit and charm to get what she wants.
The central character of The Paradise is a young girl named Denise Lovett (Joanna Vanderham), who comes from a small town to work at the store as a shop girl. Denise is ambitious and determined to make a name for herself, but she is also naive and idealistic. At The Paradise, Denise encounters a world that is both exciting and dangerous, where she must navigate the complex social interactions between the staff and customers.
The show explores various themes, including love, ambition, power, and class. As Denise works her way up the ranks of the store, she finds herself caught in a love triangle between Moray and a rich, eligible bachelor named Tom Weston (Ben Daniels). Meanwhile, Moray must deal with the consequences of his past and the expectations of society, which he has broken through his unorthodox business practices.
Other notable characters include Pauline (Ruby Bentall), a shop girl who is fiercely loyal to Denise and develops a relationship with Sam (Stephen Wight), one of the store's delivery boys; Lord Glendenning (Patrick Malahide), Katherine's father and a member of the aristocracy who disapproves of his daughter's involvement with The Paradise; and Jonas (David Hayman), the store's financial backer who has a dark and mysterious past.
The Paradise is a visually stunning show that captures the grandeur and opulence of the late 19th century. The costumes are exquisite, and the attention to detail in creating the store's elaborate displays is impressive. The show's soundtrack is also notable, featuring both original music and contemporary songs that add to the overall atmosphere.
Overall, The Paradise is a compelling drama that offers a unique glimpse into the world of retail during a time of great change and innovation. The characters are well-developed and the plot keeps the audience engaged, with plenty of twists and turns to keep things interesting. The show's themes are timeless, exploring the universal desire for love, success, and happiness, and the sacrifices that one must make to achieve them.
The Paradise is a series that is currently running and has 2 seasons (16 episodes). The series first aired on October 6, 2013.