Third Reich
World War Two began long before the first bullet was fired. It began in the heart of Berlin with a small gang of people who wanted to restore Germany back to its former glory and greatness that existed before the first World War. This gang was called The Third Reich and this show details their history from the beginning to the end.
Through eye witness accounts, actual written documents, historic footage, and actual interviews of the time; the television show documents the growth of the Third Reich. From street gang violence to the eventual overthrow of the European powers, each section of the Third Reich's history is brought to the viewer in vivid detail. It also documents the inevitable fall of the super power and death of their leader: Adolf Hitler. This is a show about how a small group of people brought Germany back to world power status, and the atrocious lengths they went to in order to stay there.
Tuesdays, Wednesdays at 9:00 pm et/pt on History Channel

1 Season,

2

Episodes

December 14, 2010

/

10

Cast:

Tony Call

,

Dan Bittner

,

Geoffrey Cantor

,

Eliza Foss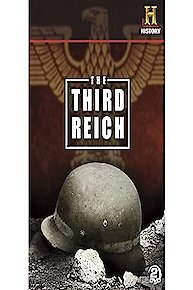 Third Reich Full Episode Guide
Rare, amateur films recount the catastrophic downfall of the Third Reich through the eyes of the people who lived it.

A unique perspective on the rise of Nazi Germany and how millions of people were vulnerable to fascism, told through rare amateur films.