Watch 13 Fear Is Real
Imagine the Blair Witch Project as a reality series, and you have grasped the concept for this CW reality series from Sam Raimi. Thirteen contestants are stranded in the Louisiana bayou, and each week one contestant mysteriously 'disappears' as they are eliminated from the competition. The last one standing will win a prize of $66,666.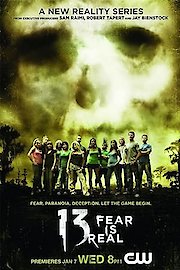 13 Fear Is Real

Full Episode Guide
Three remain for the final execution ceremony where one will survive and win $66,666.

The surviving contestants must escape from straight jackets and a room full of horrors.

Episode 6 - A Deal With The Devil

The contestants finally learn who the killer is once they get to the slaughter house. The killer tries to get to someone else but the unlucky victim tries to form a team in order to protect their place in the competition.

Episode 5 - A Lesson In Terror

The contestants still left in the competition are taken to an old school where they must live and follow the tasks set out by the mastermind. Also, the secret identity of the killer finally comes to light.

Episode 3 - A Killer Amongst Us

Episode 1 - Meet the Mastermind
If You Like 13 Fear Is Real, Then Try...